On Monday evening the Campaign Against Climate Change held an event at the University of Manchester Students Union entitled 'Africa and Climate Justice – a public meeting with Rehad Desai', ahead of the December 3 Stand Up for Climate Justice march in London during COP-17 in Durban.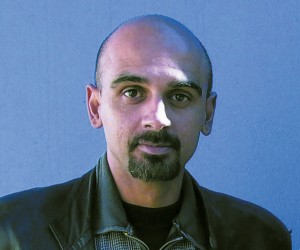 Rehad is a South African filmmaker and activist. He is involved in mobilising civil society, labour and peasant movements demanding climate justice for the COP-17 international climate change meeting in Durban next month. On the panel alongside Rehad were representatives from Campaign Against Climate Change, Manchester Environmental Students Society, and the Young Greens.
Talking to a receptive audience of around 30 people, Rehad explained how climate change is already affecting South Africa and that the crisis is now. Though not historically responsible for global carbon emissions it is currently one of the biggest emitters of greenhouse gases while the South African people are among its greatest victims. For instance, approximately 30 per cent of land is suffering from a 20 per cent decline in maize production yields as a direct consequence of climate change, driving up food prices in an already impoverished and deeply unequal country.
The mitigation and adaptation strategies mooted by Western nations though are making things far worse. Rehad told the room how 70 per cent of land grabs happening around the world right now are happening in Africa, and that in the Democratic Republic of Congo for example, 48 per cent of land is already owned by foreign companies. Much of this is being done near rivers for biofuel production in the new 'Scramble for Africa'. He said that lobbying government on the issue of climate change and climate justice is now a "misnomer" in the run-up to Durban, especially following the cataclysmic failure of COP-15 in Copenhagen, as the corporations on the London Stock Exchange have so successfully bought the favour of Western political establishment.
He spoke though too of how events around the world are making the breaking down of what previously seemed insurmountable barriers down possible again – barriers between linking current environmental degradation and climate change with their causes in the politics and economics of 30 years of neoliberal "onslaught" around the world and in post-Apartheid South Africa.
Public sector strikes in the UK, the global Occupy movement and resistance to austerity in Greece, he said, is showing that "we are not alone" in the fight for a fairer and sustainable society, and that if we can effectively link them together we can raise climate change up the global agenda again. The convergence of these many movements and international solidarity is the key. Rehad said that only "constant mobilisation" of a massive social movement can affect the change we need.
The Campaign Against Climate Change Stand Up for Climate Justice march is happening in London on Saturday 3 December and will be starting from Occupy the London Stock Exchange. They are encouraging everyone to mobilise and get down to show solidarity with those protesting in Durban and to demand climate justice for the world's poor. WDM will be there too.
Last month World Development Movement's Africa Demands Climate Justice speaker tour travelled around the UK. Below are a couple of interviews with the South African activists involved in the mobilisations for Durban, Bongani Mthembu of the South Durban Community Environmental Alliance and Bandile Mdlalosi of Abahlali baseMjondolo.
[youtube]http://www.youtube.com/watch?v=rfW3wdzRtLE[/youtube]
[youtube]http://www.youtube.com/watch?v=9MvljaDdOLs[/youtube]
Posted in
Climate Justice
,
Local
,
News
|
No Comments »