Archive for September, 2011
Written by manchestercentral on September 27, 2011 – 8:57 am -
WDM South Manchester, the existing group in Manchester, were out on Saturday doing a huge banner drop from Shudehill multi-story car park. The story was picked up by Manchester Mule.
Environmental activists staged a rooftop protest in the city centre on Saturday morning as part of a global  day of action against reliance on fossil fuels, hanging a huge banner from the top of Shudehill multi-storey car park. The banner – five metres high and 20 metres long – read 'Climate Change Kills'; a message to Downing Street from the Manchester branch of the World Development Movement (WDM).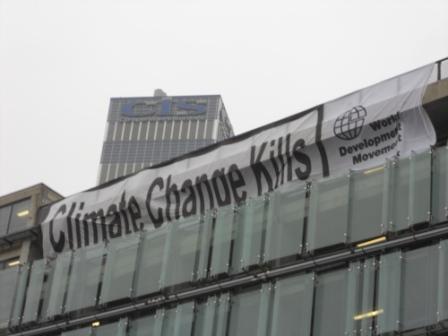 The car park was chosen for its position in front of Manchester's CIS Tower, home since 2005 to the UK's largest solar power project. WDM Manchester spokesperson Stephen Pennells described the action as a "celebration" of the unique installation, but also an urgent call for more like it. "We're calling on everybody, but particularly governments, to move from fossil fuels", he said. "We want to see David Cameron live up to his promise of running 'the greenest government ever'."
The WDM's main focus as to global warming is as a problem most acutely affecting the least developed societies, Pennells explained. "We want climate justice now," he said. "We shouldn't be giving money for green developments through World Bank loans and making the poorest countries poorer. I can't see that we're going to help people by giving the poorest nations more debt." He promised a "mass vigil" highlighting these issues when Manchester hosts the Conservative party conference next Saturday, urging Mancunians "to support this, and to carry on pressing the issue of climate change."
Read the whole story here and WDM South Manchester's blog post here.
Posted in
Climate Justice
,
Local
,
News
|
No Comments »
Written by manchestercentral on September 20, 2011 – 3:57 pm -
In October World Development Movement will be putting on Hunger for Justice in Manchester.
The latest WDM report on food speculation found that financial speculators now hold over 60 per cent of some markets for basic foods, compared to just 12 per cent 15 years ago, and that the total amount of money speculated on commodities is 20 times more than the total amount of aid money given globally for agriculture.
The huge influx of speculation has forced prices up, resulting in increasing hunger. The price of food in developing countries as a whole has risen by 55 per cent since 2007, while in sub-Saharan Africa one third of the population do not have enough food.
Another food system is possible!
While a billion people go hungry, hundreds of thousands suffer obesity and food producers in rich and poor countries alike struggle to make a living. The global food system is dysfunctional – but there are solutions.
Our speakers will explore the idea of food sovereignty, a way of putting both people and the planet first, re-localising and democratising our food system and challenging the corporate dominance that makes it so unsustainable.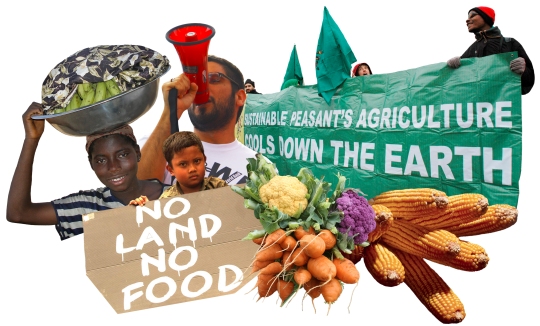 We've got a great line-up of speakers:
Sarath Fernando, Movement for National Land and Agricultural Reform, Sri Lanka
Delwek Mateus, Landless Workers' Movement, Brazil
Christine Haigh, World Development Movement
Matt Fawcett, Kindling Trust
The event will be held on Wednesday 19 October from 7-9pm at the Mechanics Institute, 103 Princess Street, Manchester, M1 6DD.
The Facebook event is here and you can become a fan of WDM Manchester Central here.
This meeting is supported by Unicorn, Manchester's co-operative grocery store. It is produced in association with 6 Billion Ways.
Posted in
Events
,
Food
|
1 Comment »
Written by manchestercentral on September 20, 2011 – 3:57 pm -
We're going to be starting up a brand new World Development Movement group here in the rainy city called WDM Manchester Central.
Watch this space for details, and anyone interested get in contact with the new North of England Network Co-ordinator Andy Lockhart who can be emailed at andy.lockhart[at]wdm.org.uk.
In the meantime please become a fan of the Facebook page and come along to the Hunger for Justice event in October at the Mechanics Institute.
Posted in
News
|
No Comments »