Archive for the 'Food' Category
Written by manchestercentral on November 25, 2011 – 11:23 am -
This week World Development Movement launched The Real George Osborne, a 14-part YouTube comedy series and online action calling for the Chancellor of the Exchequer to 'do the right thing' with regard to regulation of food speculation going through the European Union over the next few months.
Have a watch of the first episode below, and you can follow the series and George's blog on therealgeorgeosborne.com. To find out what it's all about check out this post on the WDM website which will explain all.
[youtube]http://www.youtube.com/watch?v=EdCgYEHr-Ik[/youtube]
Posted in
Food
,
News
|
No Comments »
Written by manchestercentral on November 17, 2011 – 4:38 pm -
This coming Monday Manchester Central WDM will be running a documentary film night at the University of Manchester Students Union with the long-running Open Media society.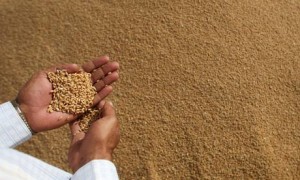 Andy will be showing a series of short films covering issues from food speculation linking in with WDM's food campaign to stories of those fighting for food justice around the world. The films will include a documentary about the Agrarian Reform for Food Sovereignty Campaign in South Africa and The Power of Community, the story of Cuba's forced transition away from heavy industrial agriculture, following the collapse of the Soviet Union in 1990 and the immediate loss of half of the country's imports of oil.
The event starts at 6pm in the Council Chambers at the Students Union on Oxford Road. All are welcome, so please come on down. Contact andy [at] wdm.org.uk for more details. The Facebook event is here.
Posted in
Events
,
Food
|
No Comments »
Written by manchestercentral on November 10, 2011 – 4:42 pm -
Sorry for the lack of updates on the Central Manchester site, things have been very busy, but there are a few events in the pipeline you should know about.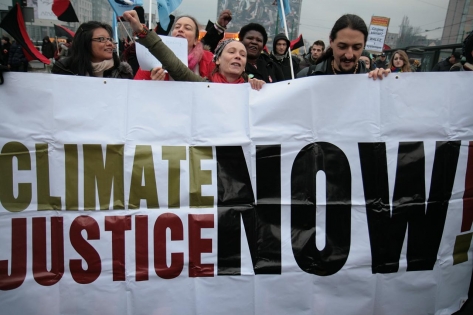 This coming Monday 14 November the Campaign Against Climate Change will be holding 'Africa and Climate Justice – Meeting with Rehad Desai' at the University of Manchester Students Union. Like World Development Movement, they are running a campaign on the issue of climate justice in the run-up to the COP-17 in Durban in December and ahead of the Stand Up For Climate Justice March in London on 3 December. Details of WDM's climate debt campaign can be found here on the main website. We will be there on Monday, and below is the blurb for the event which begins at 6.30pm in the Khaled Said room of UMSU on Oxford Road:
The historic emissions of greenhouse gases from the industrialised, developing world is already hitting those living on the majority of the globe. Developing nations are already feeling the impact of climate change, and are likely to experience it first and worst. In Africa food and water shortages are being made worse, leading to famine and conflict.
However people in Africa are organising. This years UN climate conference takes place in Durban, South Africa against a backdrop of mobilisations demanding climate and social justice. South African unions are demanding a million climate jobs and mobilising thousands to join protests, demanding the visiting politicians act to save the lives of millions of people.
Internationally renowned documentary film maker Rehad Desai is touring the UK to highlight the question of climate justice for Africa. He is at the heart of the organising team, planning for December's protests and has a long record of organising for social justice in Africa.
This meeting is part of a tour organised by the Campaign against Climate Change with support from the PCS and UCU.
It is an opportunity to hear from an activist from South Africa about how ordinary people are mobilising to challenge the inadequacies of the international response to climate change. Environmental activists from Manchester will also speak about forthcoming mobilisations in the UK.
The meeting is open to everyone, for more information, please contact climatejustice@campaigncc.org. Leaflet can be downloaded here.
On Monday 21 November we'll be running a documentary night connected to our food campaign with the Open Media society at the University of Manchester, details to follow soon.
Then on Friday 30 November Andy will be talking about food speculation and the WDM campaign on a panel at FeedingManchester 8, alongside speakers from Incredible Edible Todmorden, the Kindling Trust and Ashton Allotment Action.
Finally a big thank you to everyone who came to the Hunger for Justice event last month, it was a great success and excellent evening.
Posted in
Climate Justice
,
Events
,
Food
,
Local
,
News
|
No Comments »
Written by manchestercentral on September 20, 2011 – 3:57 pm -
In October World Development Movement will be putting on Hunger for Justice in Manchester.
The latest WDM report on food speculation found that financial speculators now hold over 60 per cent of some markets for basic foods, compared to just 12 per cent 15 years ago, and that the total amount of money speculated on commodities is 20 times more than the total amount of aid money given globally for agriculture.
The huge influx of speculation has forced prices up, resulting in increasing hunger. The price of food in developing countries as a whole has risen by 55 per cent since 2007, while in sub-Saharan Africa one third of the population do not have enough food.
Another food system is possible!
While a billion people go hungry, hundreds of thousands suffer obesity and food producers in rich and poor countries alike struggle to make a living. The global food system is dysfunctional – but there are solutions.
Our speakers will explore the idea of food sovereignty, a way of putting both people and the planet first, re-localising and democratising our food system and challenging the corporate dominance that makes it so unsustainable.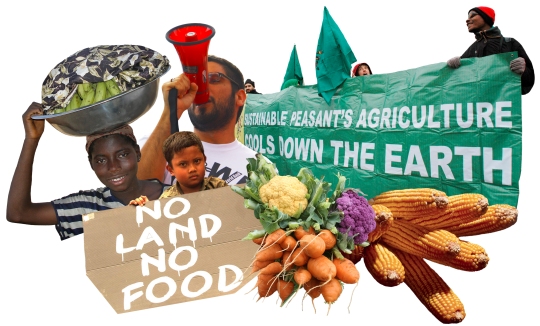 We've got a great line-up of speakers:
Sarath Fernando, Movement for National Land and Agricultural Reform, Sri Lanka
Delwek Mateus, Landless Workers' Movement, Brazil
Christine Haigh, World Development Movement
Matt Fawcett, Kindling Trust
The event will be held on Wednesday 19 October from 7-9pm at the Mechanics Institute, 103 Princess Street, Manchester, M1 6DD.
The Facebook event is here and you can become a fan of WDM Manchester Central here.
This meeting is supported by Unicorn, Manchester's co-operative grocery store. It is produced in association with 6 Billion Ways.
Posted in
Events
,
Food
|
1 Comment »