Archive for November, 2011
Written by manchestercentral on November 25, 2011 – 5:28 pm -
Manchester's second annual celebration of sustainable living and working will be taking place at locations all over the city for the next seven days.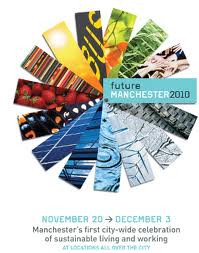 There is a fantastically diverse range of events and activities happening each day, all of which are listed here on the MERCi website. On the WDM front as mentioned before Andy will be speaking at the FeedingManchester #8 on Wednesday 30 November, which is taking place at MERCi from 4pm to 7pm and requires booking.
This latest FeedingManchester will be taking inspiration from a spectrum of sustainable food pioneers from local guerilla gardeners to Incredible Edible Todmordon to the campaign to stop global food speculation. Along with the usual mix of socialising and networking the events offer something for everyone involved in Greater Manchester's sustainable food movement.
Posted in
Events
,
Local
,
News
|
No Comments »
Written by manchestercentral on November 25, 2011 – 11:23 am -
This week World Development Movement launched The Real George Osborne, a 14-part YouTube comedy series and online action calling for the Chancellor of the Exchequer to 'do the right thing' with regard to regulation of food speculation going through the European Union over the next few months.
Have a watch of the first episode below, and you can follow the series and George's blog on therealgeorgeosborne.com. To find out what it's all about check out this post on the WDM website which will explain all.
[youtube]http://www.youtube.com/watch?v=EdCgYEHr-Ik[/youtube]
Posted in
Food
,
News
|
No Comments »
Written by manchestercentral on November 17, 2011 – 4:38 pm -
This coming Monday Manchester Central WDM will be running a documentary film night at the University of Manchester Students Union with the long-running Open Media society.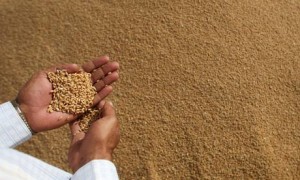 Andy will be showing a series of short films covering issues from food speculation linking in with WDM's food campaign to stories of those fighting for food justice around the world. The films will include a documentary about the Agrarian Reform for Food Sovereignty Campaign in South Africa and The Power of Community, the story of Cuba's forced transition away from heavy industrial agriculture, following the collapse of the Soviet Union in 1990 and the immediate loss of half of the country's imports of oil.
The event starts at 6pm in the Council Chambers at the Students Union on Oxford Road. All are welcome, so please come on down. Contact andy [at] wdm.org.uk for more details. The Facebook event is here.
Posted in
Events
,
Food
|
No Comments »
Written by manchestercentral on November 17, 2011 – 3:02 pm -
Manchester Central WDM is fully behind the public sector strikes on 30 November. We believe you should be too – fight the cuts, fight austerity.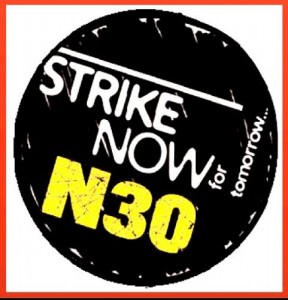 The austerity measures currently being imposed in the UK and across Europe mirror those which have been visited upon the people of the global south for over 30 years. The attacks on trade unions, cuts to health, education and welfare, mass privatisations and deregulation of environmental and labour protection – all to 'pay the debt' and 'encourage growth' – is a familiar story to those across Latin America, Africa, Asia and elsewhere.
Austerity was and continues to be imposed at the behest of Western financial interests, multinationals and states through the World Bank, the IMF and World Trade Organisation. It deepened levels of poverty, inequality, and insecurity for the world's poor, and led to increasingly regular economic and environmental crises. It failed to deliver the promised growth and 'trickle down' of wealth, while profits soared and the rich grew richer. The system is discredited, but still the poor are being made to pay for a crisis not of their making.
The 'crisis' has now come home, and the same logic used for the last thirty years is being deployed to justify an enormous transfer of wealth from the poor to the rich following the financial meltdown of 2008. Since then, with public spending, jobs, healthcare, education, pensions and all the rest face swingeing cuts across the UK and industrial world, the number of billionaires in the world has increased by nearly a third.
For a myth-busting article and six reasons to support the UK pensions strike see this piece in the Manchester Mule from back in June. For information about N30 in Manchester check out the new N30Manchester website here.
Posted in
News
|
No Comments »
Written by manchestercentral on November 17, 2011 – 12:24 pm -
On Monday evening the Campaign Against Climate Change held an event at the University of Manchester Students Union entitled 'Africa and Climate Justice – a public meeting with Rehad Desai', ahead of the December 3 Stand Up for Climate Justice march in London during COP-17 in Durban.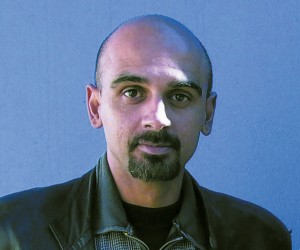 Rehad is a South African filmmaker and activist. He is involved in mobilising civil society, labour and peasant movements demanding climate justice for the COP-17 international climate change meeting in Durban next month. On the panel alongside Rehad were representatives from Campaign Against Climate Change, Manchester Environmental Students Society, and the Young Greens.
Talking to a receptive audience of around 30 people, Rehad explained how climate change is already affecting South Africa and that the crisis is now. Though not historically responsible for global carbon emissions it is currently one of the biggest emitters of greenhouse gases while the South African people are among its greatest victims. For instance, approximately 30 per cent of land is suffering from a 20 per cent decline in maize production yields as a direct consequence of climate change, driving up food prices in an already impoverished and deeply unequal country.
The mitigation and adaptation strategies mooted by Western nations though are making things far worse. Rehad told the room how 70 per cent of land grabs happening around the world right now are happening in Africa, and that in the Democratic Republic of Congo for example, 48 per cent of land is already owned by foreign companies. Much of this is being done near rivers for biofuel production in the new 'Scramble for Africa'. He said that lobbying government on the issue of climate change and climate justice is now a "misnomer" in the run-up to Durban, especially following the cataclysmic failure of COP-15 in Copenhagen, as the corporations on the London Stock Exchange have so successfully bought the favour of Western political establishment.
He spoke though too of how events around the world are making the breaking down of what previously seemed insurmountable barriers down possible again – barriers between linking current environmental degradation and climate change with their causes in the politics and economics of 30 years of neoliberal "onslaught" around the world and in post-Apartheid South Africa.
Public sector strikes in the UK, the global Occupy movement and resistance to austerity in Greece, he said, is showing that "we are not alone" in the fight for a fairer and sustainable society, and that if we can effectively link them together we can raise climate change up the global agenda again. The convergence of these many movements and international solidarity is the key. Rehad said that only "constant mobilisation" of a massive social movement can affect the change we need.
The Campaign Against Climate Change Stand Up for Climate Justice march is happening in London on Saturday 3 December and will be starting from Occupy the London Stock Exchange. They are encouraging everyone to mobilise and get down to show solidarity with those protesting in Durban and to demand climate justice for the world's poor. WDM will be there too.
Last month World Development Movement's Africa Demands Climate Justice speaker tour travelled around the UK. Below are a couple of interviews with the South African activists involved in the mobilisations for Durban, Bongani Mthembu of the South Durban Community Environmental Alliance and Bandile Mdlalosi of Abahlali baseMjondolo.
[youtube]http://www.youtube.com/watch?v=rfW3wdzRtLE[/youtube]
[youtube]http://www.youtube.com/watch?v=9MvljaDdOLs[/youtube]
Posted in
Climate Justice
,
Local
,
News
|
No Comments »
Written by manchestercentral on November 10, 2011 – 4:42 pm -
Sorry for the lack of updates on the Central Manchester site, things have been very busy, but there are a few events in the pipeline you should know about.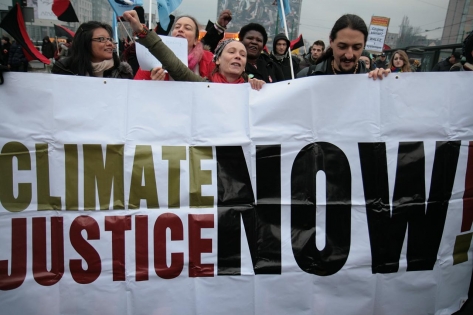 This coming Monday 14 November the Campaign Against Climate Change will be holding 'Africa and Climate Justice – Meeting with Rehad Desai' at the University of Manchester Students Union. Like World Development Movement, they are running a campaign on the issue of climate justice in the run-up to the COP-17 in Durban in December and ahead of the Stand Up For Climate Justice March in London on 3 December. Details of WDM's climate debt campaign can be found here on the main website. We will be there on Monday, and below is the blurb for the event which begins at 6.30pm in the Khaled Said room of UMSU on Oxford Road:
The historic emissions of greenhouse gases from the industrialised, developing world is already hitting those living on the majority of the globe. Developing nations are already feeling the impact of climate change, and are likely to experience it first and worst. In Africa food and water shortages are being made worse, leading to famine and conflict.
However people in Africa are organising. This years UN climate conference takes place in Durban, South Africa against a backdrop of mobilisations demanding climate and social justice. South African unions are demanding a million climate jobs and mobilising thousands to join protests, demanding the visiting politicians act to save the lives of millions of people.
Internationally renowned documentary film maker Rehad Desai is touring the UK to highlight the question of climate justice for Africa. He is at the heart of the organising team, planning for December's protests and has a long record of organising for social justice in Africa.
This meeting is part of a tour organised by the Campaign against Climate Change with support from the PCS and UCU.
It is an opportunity to hear from an activist from South Africa about how ordinary people are mobilising to challenge the inadequacies of the international response to climate change. Environmental activists from Manchester will also speak about forthcoming mobilisations in the UK.
The meeting is open to everyone, for more information, please contact climatejustice@campaigncc.org. Leaflet can be downloaded here.
On Monday 21 November we'll be running a documentary night connected to our food campaign with the Open Media society at the University of Manchester, details to follow soon.
Then on Friday 30 November Andy will be talking about food speculation and the WDM campaign on a panel at FeedingManchester 8, alongside speakers from Incredible Edible Todmorden, the Kindling Trust and Ashton Allotment Action.
Finally a big thank you to everyone who came to the Hunger for Justice event last month, it was a great success and excellent evening.
Posted in
Climate Justice
,
Events
,
Food
,
Local
,
News
|
No Comments »