Archive for February, 2012
Written by manchestercentral on February 27, 2012 – 4:06 pm -
What would a global economy that really worked in the interests of people look like? And how can we make it happen? Come to a full day event of informative and inspiring workshops and speakers, all addressing these questions.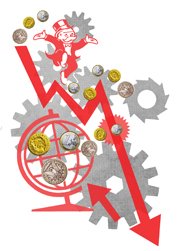 This event will bring together activists from Manchester, Europe and beyond to share ideas, stories and tactics for building economic justice movements across the world.
Government responses to the financial crisis have prioritised the interests of irresponsible banks and led to deep public sector cuts, ballooning unemployment and poverty. Globally, corporate power is being entrenched while the rich continue to dodge their taxes.
But the financial crisis has also triggered inspiring movements for change across the world. We'll have speakers from some of those movements, both local and global. We'll have workshops that examine the current crisis and look at alternative ways of building a fairer economy. And there will also be opportunities to share ideas and tactics for bringing that fairer economy about.
FREE EVENT organised jointly by Jubilee Debt Campaign and the World Development Movement.
Speakers will include:
Dina Makram Ebeid, Popular Campaign to Drop Egypt's Debt
Almudena Serpis from Spain's indignados movement
Sargon Nissan, former city trader turned activist
Nessa Ní Chasaide, Debt Justice Action (Ireland)
Sarah Bracking, author of 'Money and Power'
John Christensen, Tax Justice Network
Hilary Wainwright, Transnational Institute's New Politics programme
Matt Fawcett, Kindling Trust
Kirtana Chandrasekaran, Friends of the Earth International
Nick Dearden, Jubilee Debt Campaign
Kirsty Wright, World Development Movement
Rosa Curling, Leigh Day and Co campaigning solicitors
and more to be announced…
Workshops and sessions on causes of the financial crisis, tax havens, the 'solidarity economy', citizens' debt audits, activism for food justice locally and globally, the global movement against austerity, overseas aid and philanthropy, economic justice and the Arab Spring, organising for workplace rights and more.
REGISTER NOW
Registration for the event is now open here: http://www.wdm.org.uk/events/economy-99-ideas-stories-and-tactics-around-world
MEDIA PARTNER
Manchester Mule – News with a kick!
http://manchestermule.com/
Supported by 6 Billion Ways
http://www.6billionways.org.uk/
Posted in
Events
,
Local
|
No Comments »