Home
Global Justice Manchester
We are a group committed to taking action in the local area to challenge corporate power and the policies that cause poverty and inequality all over the world.
Whether it's stopping water privatisation, unfair trade deals, climate change we're here to make the campaigns that you want to see take off we're here to support you to take the action that you want.
So long as you're interested in making sure that the interests of ordinary people aren't trampled by those of corporations then you're welcome to join us.
Happy Campaigning!
Please see the Facebook page for the fast moving world of campaigning on TTIP, Fracking and Food Sovereignty. Here you will find examples of past activities, blog posts and contact details.
Upcoming Event: MONSANTO On TRIAL
Date and Time:
Tue 11 October 2016 at 18:00 – 21:00
Details
This October, seed and pesticide corporation Monsanto is facing an international court in The Hague. While this is just a symbolic people's court, the witnesses and judges are real. They have been called because they have suffered human rights abuses, threats to their communities and destruction of their environment. Come and hear from one of these witnesses, Farida Akhter, who is touring around the UK before travelling to the Hague for the tribunal.
Global Justice Now has commissioned photo journalist Jordi Cirera create a photo exhibition by visiting some of these witnesses in India and Bangladesh. His photos tell the stories of farmers who are fighting Monsanto to work out an alternative model of farming.
Speakers:
–Farida Ahkter, a Bangladeshi seed sovereignty campaigner and founder of biggest collection of community seed banks in the world.
–Nick Dearden, Director of Global Justice Now
Q+A, discussion and refreshments.
HSBC Fund Climate Change.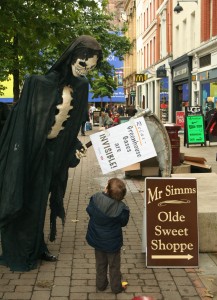 The grim reaper explains the benefits of this profit seeking
Whilst WDM Manchester collect cards in St Ann's Square to send to HSBC CEO saying that this is disastrous for this child's future.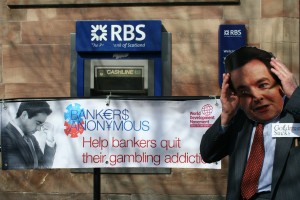 Use legislation to stop bankers addiction
Stop The Fat Cats Getting Rich by Supporting Environmental Destruction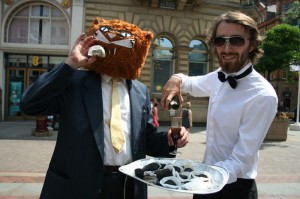 Carbon Capital stunt in St Ann's Square was attended by  Chris, Debbie, Stephen, Ann, Matthew, we achieved 112 signatures and a number of  photos. 
A number of people were attracted to our table with 'oily'  drinks on offer, and coal sweeties!
The Mule Newspaper Highlighted our recent action to save the poor Bankers
Follow link to the newspaper and join us outside The Unicon Supermarket in Chorlton at mid day Saturday 4th May http://manchestermule.com/article/chorlton-campaigners-tell-bankers-to-quit-gambling-on-food-prices We recently did something similar on Grand national Saturday – we collected a sack full of signatures but did not save any gamblers on the horse. Let's work to make sure the story is different for the addicted bankers.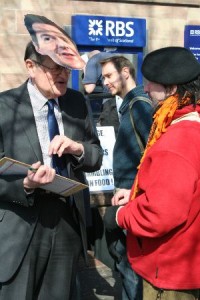 Hunger for justice Just One Recent action  With The Jubilee Debt Campaign
The Grim Reaper  (AKA Stephen) Convinces Manchester
Instead of condemning many to death, like the UK Export Credit Guarantee Department's dodgy deals, the grim reaper convinces Manchester's Piccadilly gardens  of the need to cancel third world debt