Home
 Global Justice Manchester
 Owen Jones, Journalist & Activist Shows Support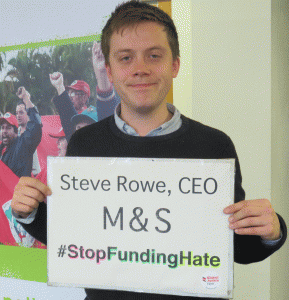 We are a group committed to taking action in the local area to challenge corporate power and the policies that cause poverty and inequality all over the world.
Whether it's stopping water privatisation, unfair trade deals, climate change we're here to make the campaigns that you want to see take off we're here to support you to take the action that you want.
So long as you're interested in making sure that the interests of ordinary people aren't trampled by those of corporations then you're welcome to join us.
Happy Campaigning!
Please see the Facebook page for the fast moving world of campaigning on TTIP, Fracking and Food Sovereignty. Here you will find examples of past activities, blog posts and contact details.
___________________
Stop Funding Hate
Julie Ward MEP  Shows support for the Campaign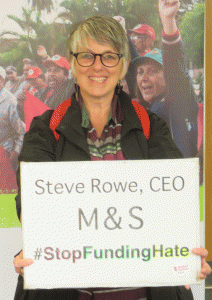 Global Justice Manchester's stall at the 'Another Europe is Possible' conference at the Museum of Science and Industry on April 1st was a great success.
Many delegates, including NW MEP Julie Ward, demonstrated support for GJN's 'Stop Funding Hate Campaign' by posing with placards calling for Marks and Spencer's CEO
Stephen

Rowe, to withdraw advertising from the Daily Mail.
Mark Wiseman  Shows his Disgust
_________________________________
Global Justice Now, Manchester,
Challenge MEP Afzal Khan on eve of controversial trade deal vote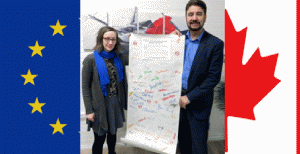 Manchester's Afzal Khan, former Lord Mayor of the city and current MEP for the NW of England, has received thousands of messages asking him to reject the Comprehensive Economic and Trade Agreement (CETA). Khan told local campaigners last Friday he was still undecided on whether to vote for or against CETA, the controversial Canada/EU trade deal, when its fate will be decided on the 15 February in the European Parliament.
The full story on The Meteor:
http://www.themeteor.org/2017/02/13/mep-afzal-khan-challenged-on-eve-of-controversial-trade-deal-vote/
_______________________________
HSBC Fund Climate Change.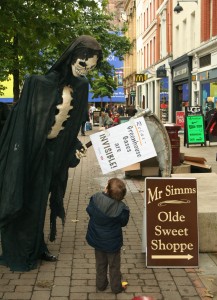 The grim reaper explains the benefits of this profit seeking
Whilst WDM Manchester collect cards in St Ann's Square to send to HSBC CEO saying that this is disastrous for this child's future.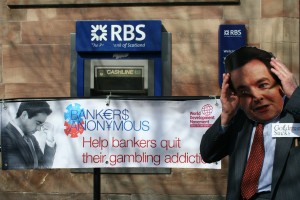 Use legislation to stop bankers addiction
Stop The Fat Cats Getting Rich by Supporting Environmental Destruction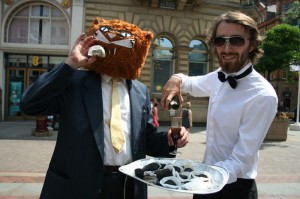 Carbon Capital stunt in St Ann's Square was attended by  Chris, Debbie, Stephen, Ann, Matthew, we achieved 112 signatures and a number of  photos. 
A number of people were attracted to our table with 'oily'  drinks on offer, and coal sweeties!
The Mule Newspaper Highlighted our recent action to save the poor Bankers
Follow link to the newspaper and join us outside The Unicon Supermarket in Chorlton at mid day Saturday 4th May http://manchestermule.com/article/chorlton-campaigners-tell-bankers-to-quit-gambling-on-food-prices We recently did something similar on Grand national Saturday – we collected a sack full of signatures but did not save any gamblers on the horse. Let's work to make sure the story is different for the addicted bankers.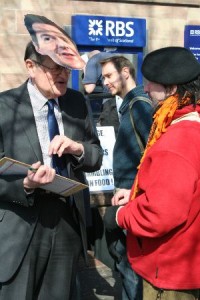 Hunger for justice Just One Recent action  With The Jubilee Debt Campaign
The Grim Reaper  (AKA Stephen) Convinces Manchester
Instead of condemning many to death, like the UK Export Credit Guarantee Department's dodgy deals, the grim reaper convinces Manchester's Piccadilly gardens  of the need to cancel third world debt