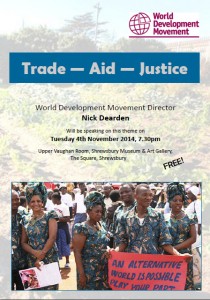 World Development Movement Director
Nick Dearden
will speak on economic justice
on the evening of Tuesday 4 November 2014
ALL WELCOME!
Join us at 7.30pm-9pm in the Upper Vaughan Room, Shrewsbury Museum and Art Gallery, The Square, Shrewsbury, Shropshire SY1 1LH.
Topics will include the controversial Transatlantic Trade and Investment Partnership (TTIP) being negotiated between the EU and USA.
Nick was previously Director of the Jubilee Debt Campaign. There he helped win a new law to stop Vulture Funds from using UK courts to squeeze huge debt payments out of poor countries. Nick joined WDM in September 2013.