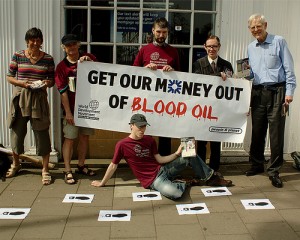 Angry that the part nationalised Royal Bank of Scotland is investing taxpayers' money in companies linked to human rights abuses and climate change, protesters are taking part in a week of action against the bank. In Oxford, on 24th April at 11am, campaigners from Oxford World Development Movement protested outside the RBS branch in St. Giles to demand that our money stops financing companies involved in devastating activities, such as oil extraction from tar sands.
The campaigners say that RBS is involved in financing tar sands related companies to the tune of $7 billion, since its bail-out by the UK public. Extracting oil from tar sands in Canada has recently come under the spotlight as highly controversial because it violates indigenous peoples' rights and contributes more to climate change than conventional oil extraction.
A week of action that will see protests across the country around the bank's AGM on 28 April has been organised by the World Development Movement and student network, People & Planet.
Chris Manley from Oxford World Development Movement said:
"We are calling on the government to force RBS to stop investing taxpayers' money in tar sands companies because of the devastating impact that it has on indigenous communities and climate change. Since the bail-outs RBS has continued to use our money in highly damaging ways, and this has to stop. Instead our money should be invested in projects that are beneficial to people in the UK and to the poorest people in the world."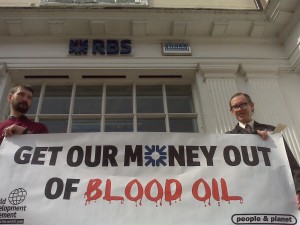 ENDS
Notes to editors:
• The RBS AGM is taking place on Wednesday 28 April in Edinburgh; there will be protests across the country including outside the AGM and in London.
• Indigenous people in Canada have been marginalised and discriminated against throughout history. Now because of tar sands projects financed by the publicly-owned Royal Bank of Scotland, their lives are being destroyed.
• Tar sands are found in the ground and consist of oil mixed with sand, clay and water. To get to the oil the sand, clay and water need to be removed using very expensive and energy intensive techniques.
• This makes oil extracted from tar sands the dirtiest energy source and the Cree people's land in Alberta, Canada, has been poisoned with mercury and arsenic from the mines. They report boils and tumours in the fish and game they rely upon for food, and soaring cancer rates in their towns.
• WDM wants the government to stop RBS using our money to destroy the lives of poor and marginalised people, and instead fund socially useful activities like public services and clean technology.