Author Archive
Written by oxford on April 20, 2015 – 9:07 pm -
Various groups connected with sustainability have organised a hustings for the Oxford East parliamentary constituency. Parliamentary candidates standing for election in this constituency have been invited to answer questions from their potential constituents.
Tags:
UK elections
Posted in
Events
,
News
|
No Comments »
Written by oxford on April 20, 2015 – 8:56 pm -
Sustainable Wallingford is screening a Canadian documentary, Shattered Ground, about fracking and the effect it has already had in Canada and the USA – a timely warning as the UK government tries to introduce it over here. Tickets are £5. It's happening at the Corn Exchange, 7:30pm.
Tags:
film screenings
,
fossil fuels
,
fracking
,
not WDM
,
wallingford
Posted in
Events
,
News
|
No Comments »
Written by oxford on April 15, 2015 – 9:03 pm -
The UK Green Film Festival is the UK's annual environmental film festival. Taking place each year over a single week, up and down the country, the festival screens some of the very best films from around the world, exploring some of the big environmental issues of the day. Two films will be shown in Oxford as part of the festival, both at the Ultimate Picture Palace.
Good Things Await  (Sat 9th May) Documentary about a Danish farmer threatened by authorities who don't like his biodynamic approach.
Bikes vs Cars (Sun 10th May) Documentary following individuals around the world fighting to challenge the dominance of the car.
Tags:
cycling
,
farming
,
film screenings
,
not WDM
Posted in
Events
,
News
|
No Comments »
Written by oxford on March 11, 2015 – 9:51 pm -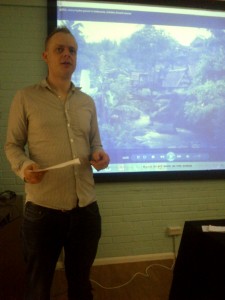 Climate change, capitalism and citizen power were just a few of the things discussed at last night's Global Justice Oxford relaunch. Nick Dearden, director of Global Justice Now, travelled from London to help us celebrate.
Why the relaunch? We used to be known as WDM (World Development Movement) but in recent years it's become clear that the meaning of the word "development" has changed to the point where it actually describes the kind of approach we're fighting against.
So WDM polled members around the country, consulted all the local groups (like ours) which form such an important part of the organisation, then took a democratic decision to change the organisation's name to Global Justice Now in January 2015. Local groups have renamed themselves on the same pattern and have been holding relaunch events up and down the country to celebrate the change.
It was cheering to see a healthy turnout for our event – surely they weren't all motivated by the delicious cake on offer! – and so much engagement with the issues. We talked about corporate takeover of global resources, alternative models for energy generation, higher education, the Greek economy and more.
We showed three films to give some context about our campaigns. If you missed the event, you can watch the (short) fims on YouTube..
How our banks finance climate change (4mins)
The story we're told is that there's no money to fight climate change… but apparently there's plenty of money spare for causing climate change?
Naomi Klein Says Climate Activists Need to Get Comfortable Attacking Capitalism (8 mins)
Interview with the author and activist, whose Oxford book launch sold out the Sheldonian Theatre last autumn.
IBEKA, micro hydro power in Indonesia
Energy doesn't have to be corporate-owned, environmentally damaging and expensive. The IBEKA story presents a positive alternative to the "Big Energy" model.
A consistent theme in everything we talked about was the idea of challenging the narrative: not accepting the stories we're told about how the world does and should work, but coming up with our own stories. One great example is the dreaded Transatlantic Trade and Investment Partnership (better known as TTIP) which might have been accepted as a broadly positive trade deal if there hadn't been such a well-orchestrated campaign against it. Global Justice Now has been working in collaboration with other organisations to expose the truth of TTIP at national and European level; meanwhile, at a local level, several of the campaigners from Global Justice Oxford have been working with Oxfordshire campaigners from other groups such as 38 Degrees.
We had to bring the fruitful discussion to an end when time ran out, but we hope to see some of the people who came last night at our next "regular" meeting on Tuesday 14th April.
Tags:
climate change
,
nick dearden
,
TTIP
,
video
Posted in
News
,
Recent events
|
No Comments »
Written by oxford on March 11, 2015 – 9:21 pm -
If you were inspired by our speaker meeting in March, perhaps you'd  like to come to a "regular" meeting of Global Justice Oxford. Newcomers are always welcome and it's a chance to get to know us in a slightly more relaxed setting.
Where? Oxford Town Hall
When? Tuesday 14th April
Meetings are on the second Tuesday of the month and usually happen at Oxford Town Hall. We always do our best to book a wheelchair-accessible room.
Tags:
meet WDM
Posted in
News
|
No Comments »
Written by oxford on March 1, 2015 – 9:00 pm -
On Saturday 7th March there will be a huge march against climate change taking place in London. There is a coach going from Oxford (picking up in central Oxford and Headington) with seats priced at only £6. At the time of writing there are still seats left.
Tags:
climate change
Posted in
News
|
No Comments »
Written by oxford on March 1, 2015 – 8:47 pm -
Global Justice Oxford is relaunching! To celebrate our name change from Oxford WDM, we are holding a relaunch event in Oxford. It's one of many Global Justice Now relaunches happening all over the country as local groups look forward to campaigning with a new identity. Entry is free and everybody is welcome – you don't have to be a supporter of our organisation.
Director of Global Justice Now comes to Oxford
Nick Dearden, director of Global Justice Now, is coming to Oxford to speak at our event. If you don't know much about Global Justice Now – or perhaps you've never even heard of us – Nick's talk will be an accessible introduction to who we are, what we do and why it matters.
Three super-short films
To give a bit of context about our campaigns, we'll be showing three very short but thought-provoking films.
How our banks finance climate change
Interview with Naomi Klein
Micro-hydro: a positive alternative to Big Energy
Please tell your friends!
The Long Room at Oxford Town Hall holds up to 50 people. We'd like to get as many people along as possible on the night. Please share this blog post far and wide so people know about our event!
When? Tuesday 10th March, 7:30pm
Where? The Long Room, Oxford Town Hall
Tags:
meet WDM
,
nick dearden
Posted in
News
|
No Comments »
Written by oxford on February 28, 2015 – 9:35 pm -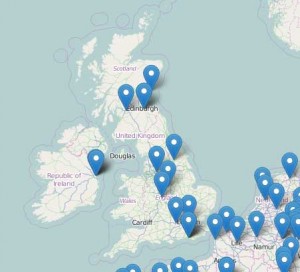 Saturday 18th April will be an international day of action against TTIP and other damaging trade deals.
Why should corporations have the right to sue governments for making decisions that damage their profits? Under TTIP, this could be a reality. Cigarette companies suing governments for bringing in plain tobacco packaging, energy companies suing governments for phasing out nuclear power…this kind of thing has already happened under similar trade deals elsewhere.
The global fightback continues with a day of protest, awareness-raising and action on Saturday 18th April. There's nothing specifically happening in Oxford that we know of, but the interactive map on the Global Justice Now website shows just how many different things are happening all over the world. The site also gives details of what's happening in central London and Manchester, but they won't be the only UK protests!
Tags:
trade
,
TTIP
Posted in
News
|
No Comments »
Written by oxford on February 9, 2015 – 8:07 pm -
We're meeting at 7:30pm tomorrow (Tuesday 10th February) in a wheelchair-accessible room at Oxford Town Hall. As ever, non-members are welcome to come along and learn a little more about us.
Tags:
meet WDM
Posted in
News
|
No Comments »