Author Archive
Written by oxford on August 18, 2015 – 9:08 am -
"In January, after five long years of punishing austerity followed by deepening poverty, inequality and social crisis, the Greek people demanded a change of course. They gave their new government a mandate to end austerity and renegotiate the terms of Greece's bailout loans.
"But five months into the negotiations, Greece's powerful creditors are refusing to budge. The 'Troika' of the European Union, the IMF and the ECB are demanding more of the same austerity 'medicine' that has plunged Greece into crisis."
The Jubilee Debt Campaign has created a petition calling for Greece's debt to be cancelled:
http://jubileedebt.org.uk/actions/greeces-debt-petition
Tags:
Greece
,
petitions
Posted in
News
|
No Comments »
Written by oxford on August 17, 2015 – 6:06 pm -
38 Degrees members are coming together at hundreds of locations across the UK to campaign against TTIP on Saturday 22nd. People will be collecting signatures for an enormous petition against it. Put your postcode into the 38 Degrees site to get info on what's happening in your part of Oxfordshire.
This mobilisation isn't organised by Global Justice Now, but we fully support its aims.
Tags:
trade deals
,
TTIP
Posted in
Events
,
News
|
No Comments »
Written by oxford on August 17, 2015 – 5:59 pm -
Banbury Canal Day is a relaxed riverside festival in – you guessed it – Banbury. We'll have a stall somewhere, collecting signatures for one of our ongoing campaigns. But we need enough volunteers to fill the rota. Can you help? The festival takes place a short walk from the train stati0n, so you don't need to be Banbury-based to get involved.
At our September meeting we'll decide what campaign to focus on for Banbury Canal Day 2015.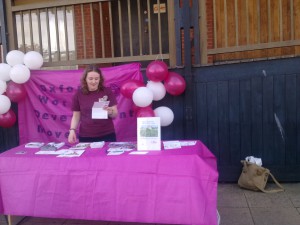 Our stall at the 2013 Banbury Canal Day, back when we were called Oxford World Development Movement. We campaigned on dirty energy.
Tags:
banbury
,
banbury canal day
Posted in
Events
,
News
|
No Comments »
Written by oxford on June 29, 2015 – 8:30 am -
The Gates Foundation is one of the world's biggest charitable funds. But it holds investments in fossil fuels. How can an organisation dedicated to wiping out poverty justify contributing to climate change? Now there is a petition asking Bill and Melinda Gates to divest the Gates Foundation of fossil fuels. Anyone can sign!
Tags:
climate change
,
conflict of interest
,
gates foundation
Posted in
News
|
No Comments »
Written by oxford on June 26, 2015 – 7:20 pm -
3pm, Saturday 11th July
Friends Meeting House, St Giles 
A talk by Professor Joy Hendry on Science, Stories, and Indigenous Wisdom. Admission £5 (£3 students). This event is not organised by Global Justice Now.
Tags:
not Global Justice Now
Posted in
News
|
No Comments »
Written by oxford on June 26, 2015 – 7:14 pm -
Global Justice Oxford monthly meeting
Tuesday 14th July
Oxford Town Hall, 7:30pm
Our monthly meeting is a chance to plan activities and share news of national campaigns. We usually show a (very) short film or two as well. Non-members are very welcome.
Tags:
meet Global Justice Oxford
Posted in
News
|
No Comments »
Written by oxford on June 26, 2015 – 7:03 pm -
A petition urging Monsanto to stop silencing scientists has now reached 1,414,259 signatures – well on the way to achieving the target of 1,500,000, or 1.5 million signatures. Can you add your signature and share it?
The petition was created after the World Health Organisation (WHO) released a report saying that a very commonly used herbicide causes cancer. Now Monsanto is demanding that the WHO retracts the report. They're not offering any evidence that the report is wrong in any way; they just want to silence the scientists so that people don't become aware of how we're being poisoned. Let's help to get the word out!
Tags:
agribusiness
,
agriculture
,
monsanto
,
petitions
Posted in
News
|
No Comments »
Written by oxford on June 26, 2015 – 6:52 pm -
Global Justice Now has been working on a free networking tool for activists. It is now at the stage where they would like lots of activists to test it and see how it can be improved! Try it out at http://commonground.globaljustice.org.uk/
Tags:
online resources
Posted in
News
|
No Comments »
Written by oxford on June 25, 2015 – 7:04 pm -
Take Back Our World festival
Fri 17th – Sun 19th July 
Tapeley Park, north Devon
The Take Back Our World festival has been jointly organised by Global Justice Now and Students Against TTIP. It's happening in Tapeley Park, a stately home surrounded by beautiful grounds.
The festival is intended as a mix of politics, activism, culture and creativity. Special guests include:
David Graeber, academic, Occupy Wall Street activist and author of author of Debt: The First 5,000 Years
Molly Scott Cato MEP (Green Party)
Nick Dearden, director, Global Justice Now
Jody Boenhert, designer, activist and director of Ecolabs
Samir Dathi, Brick Lane Debates
Activists from Free University London
Kalyan, jazz and dub band from Leeds
Tudor Lion, reggae DJ with Channel One
Natural Curriculum, hip-hop collective from Manchester
There will be workshops, film screenings, music and more.
Sadly there aren't any coaches running directly from Oxford, but there are coaches running from London and Bristol. A camping ticket costs £25 (and travel costs are on top of that).
Book your tickets through Eventbrite or ring the Global Justice Now head office on 020 7820 490.
Tags:
festival
Posted in
News
|
No Comments »
Written by oxford on May 12, 2015 – 12:49 pm -
Global Justice Oxford is holding its Annual General Meeting tonight. This is a chance to find out more about the group, get involved with our decision-making and perhaps get involved with our work. Several roles are up for re-election:
Chair
Secretary
Treasurer
Communications Officer
The people currently filling these roles are all standing down, so this is a great opportunity to get involved with the group and maybe add a new responsibility to your CV.
We're meeting in the (wheelchair-accessible) Ploughman Room at Oxford Town Hall from 7:30pm.
Tags:
meet WDM
Posted in
News
|
No Comments »