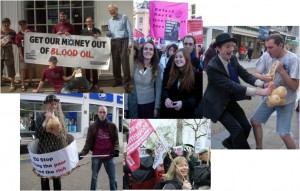 The Oxford WDM Group campaigns in Oxfordshire, lobbying MP's, organising public meetings, undertaking street theatre/stunts and holding stalls to engage the public on development issues.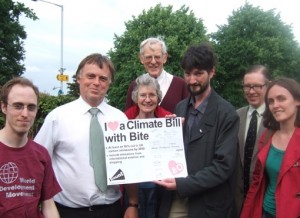 We also campaignwith other local groups on trade justice, debt and climate change issues and are a part of the Oxfordshire Climate Alliance. Annual subscription is £7 waged and £2 unwaged/student (the subscription goes towards campaign costs and materials).
To get involved, or find out more information, see contact us, or come to our monthly meeting. Meetings are held on the 2nd Tuesday of every month (see 'meetings and events' in case of change of venue), in the Oxford Town Hall, St. Aldates, 7:30pm-9pm. New members are always welcome.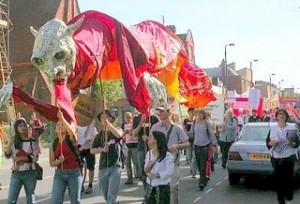 For more photos of the Oxford group in action, go to the Oxford WDM web album.