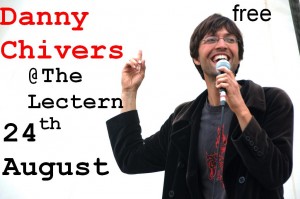 Renowned author and eco-activist Danny Chivers (New Internationalist/Newsnight/Tenner Films) will be giving a free talk at the Lectern pub opposite B&Q on Lewes Road at 7pm on Wednesday 24th August.
Danny was one of the infamous "Ratcliffe Six", direct action protesters whose trial collapsed in January after revelations about undercover police officer Mark Kennedy.
Danny will be giving the inside story of the whole bizarre Ratcliffe affair, mixed up with slam poetry, some unlikely good news on climate change, ideas for future eco-campaigning, and cute pictures of kittens.
This year, he has also been thrown out of BP's AGM for an anti-tar sands protest, been lightly grilled by Jeremy Paxman live on BBC Newsnight, and also launched his new book: "The No-Nonsense Guide to Climate Change".
There'll be an opportunity to ask Danny questions and have dinner or a pint with other like-minded people. The Lectern pub will be serving food until 9pm.
Danny's book, published by New Internationalist, is a handy pocket guide to the whole climate issue, using friendly, jargon-free language (along with a smattering of humour, poetry and unusual analogies) to explain the latest science, politics, solutions, technologies, barriers, activism, and where we go from here.
You can read the first chapter of the book for free online, here:
What people say about the book:
"Gets to grips with big ideas using good, plain language" – Nicola Bullard, Focus on Global South
"A worthwhile and engaging read which is particularly strong in laying out the science and yet staying positive" – Green Prophet
"Convincing and infectious" – All Top Books
What people say about Danny's poetry:
"Feisty, thought-provoking and politically rounded…a seriously funny rising star" – New Internationalist Magazine
"Half master of witty banter, half eerily reasonable prophet of environmental Armageddon" – Radio Foreplay
"A star in the making" – John Rivers, Fifth Estate
You can see Danny performing some of his poetry here:
"Lifestyle Choice" live at the G20 protests in London:
"Consumed", live at the Edinburgh Climate Camp:
"A Modest Proposal" by Tenner Films, on location at Dungeness nuclear power station:
(winner, Best Freefall Film, Limelight Short Film Award)