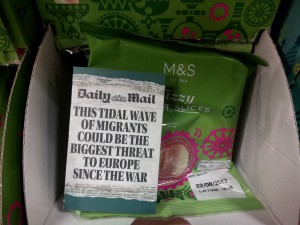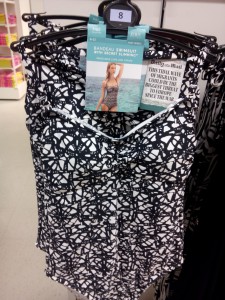 It's a busy Saturday afternoon, and I'm sneaking around the aisles and clothing rails in the Brighton branch of Marks & Spencer with a pack of small cards featuring a particularly toxic Daily Mail cover story.
The putrid little slogans that I'm slotting into swimwear hangers and sweetie packs are actually the action cards for Global Justice Now's latest campaign.
Our aim is ultimately to ask Marks & Spencer, a company founded by a Jewish refugee, and proud of its ethical policies, to help us call out and hold to account the Daily Mail for their divisive and derogatory reporting of migrants. We're asking the company to cease their advertising deals with the Daily Mail – a key source of the paper's revenue – and take a stand against the spread of anti-migrant hate.
Watch this space for more news on the campaign, and if you like take the time to email Steve Rowe, the CEO of Marks & Spencer, asking him to pull their advertising from the paper.