Wednesday 22nd May, 7pm–9:15pm 
Global Justice Sheffield are pleased to take part in this years Festival of Debate. Book now.
The wealth privately sent abroad each year from Africa averages at least four times total international aid. And that's only the tip of an iceberg of theft facilitated by Western interests.
Debate with our panel of speakers about their own recommended contributions to the broader set of policy and social change that's required to end this and other injustices.
Martha Musonza Holman, of Love Zimbabwe, a Fairtrade charity, will set the scene in terms of the everyday impacts of this international theft on people's everyday lives in Zimbabwe.
Tim Jones, of Jubilee Debt Campaign, will highlight how UK companies extract wealth from Africa through odious loans. This includes the case in Mozambique where $2 billion of secret loans from London banks have triggered a debt crisis in the country.
Gbenga Shadare, of Africa@UK, will tell his own personal story, as a former investment banker/wealth manager, describing his experience of working with insiders and former operatives who assisted looters and politicians.
Sophie Efange, of Christian Aid, will bring out the role of Britain's violent colonial history in perpetuating modern day structural inequalities in Africa – including via tax havens and illicit financial flows – and the need to shift from Aid to reparations.
Booking: the event is free, but booking is essential as there are limited seats available.
Venue: Central United Reformed Church, Norfolk Street, Sheffield S1 2JB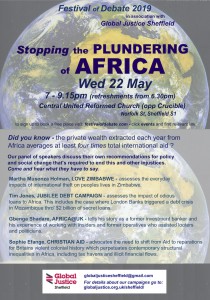 Organised by: Festival of Debate, in association with Global Justice Sheffield.