Saturday 24th November, 1pm – 4:30pm
Fire in the Blood is the inspiring story of the South African people taking on the drug corporations and the government itself, and actually winning the affordable prices they need – for now!
It depicts the obstruction by Western pharmaceutical companies to provide lowcost antiretroviral drugs used for treatment of HIV/AIDS to people in Africa. The documentary is just one example of how patents monopolize the markets, and how activists are responding to the extortionate prices.
Heidi Chow (the lead GJN campaigner on Big Pharma) will introduce the Sheffield launch of the new phase of the campaign against corporate profiteering from unaffordable prices for life-saving drugs in developing countries, and then take questions and lead the post-film discussions.
A light lunch and refreshments will be available.
To book a free place email: globaljusticesheffield@gmail.com
Venue: Quaker Meeting House, 10 St. James Street, Sheffield S1 2EW (nr Sheffield Cathedral)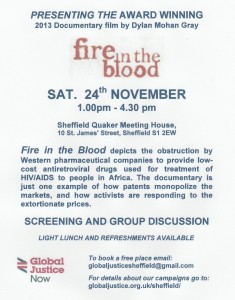 More info about the film
An intricate tale of 'medicine, monopoly and malice', FIRE IN THE BLOOD tells the story of how Western pharmaceutical companies and governments aggressively blocked access to low-cost AIDS drugs for the countries of Africa and the global south in the years after 1996 – causing ten million or more unnecessary deaths – and the improbable group of people who decided to fight back.
Shot on four continents and including contributions from global figures such as Bill Clinton, Desmond Tutu and Joseph Stiglitz, FIRE IN THE BLOOD is the never-before-told true story of the remarkable coalition which came together to stop 'the Crime of the Century' and save millions of lives in the process.
As the film makes clear, however, this story is by no means over. With dramatic past victories having given way to serious setbacks engineered far from public view, the real fight for access to life-saving medicine is almost certainly just beginning.
A film by Dylan Mohan Gray, narrated by William Hurt.