The Coalition for Global Prosperity describes itself as "a non-partisan, not-for-profit organisation" which was launched a couple of years ago by David Cameron and Penny Mourdant (when at DfID) and "..brings together political, military, business and faith leaders who believe that an effective development budget, alongside an active diplomatic and defence strategy, keeps Britain at the forefront of saving lives, alleviating poverty and bringing freedom, security and prosperity to those who need it most."
Its homepage shows a military helicopter offloading UKAid- well logo-ed up and several similar pictures (helpfully provided by HMG?) are evident elsewhere on their website.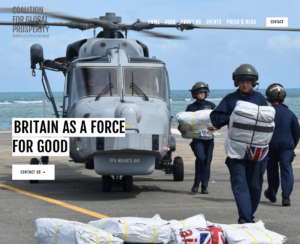 The "our supporters" page boasts several dozen pics. of former PMs, Lords (spiritual and temporal), MPs, a few Aid NGO staff and an Assistant Chief of the General Staff who sneaked in in "civvies". How many MPs were there for the photo-op for their constituency website, or were there out of personal commitment one can't tell.
This might cause unease, as does the twitter feed if one worries about possible propaganda focussing on Aid as the answer with a video of Bill Gates.
"However, I was educated to "listen to the other side" and it can't be denied many people in need are only alive now because of aid delivered by the Forces and paid for by wealthy people and institutions in the Global North (even if their poverty is in no small part due to said bodies)."
The Coalition for Global Poverty says it ".. brings together a wide coalition of aid supporters, with backgrounds from across the military, faith, business and political communities. We organise public and private events to explore the UK's role as a global leader." As such it publishes contributions and gives a platform to a range of (self-selecting) stakeholders, including MPs from various parties and business speakers with different views. Thus, it would appear, they gave the stage to Labour's shadow International Development Secretary and I received an invitation (presumably because the Labour Party had an algorithm clocking my clicks) to what was billed as "a (Zoom) conversation with Preet Gill" – shadowing a department that has disappeared!
After a few minutes spent advertising the Coalition and Labour's Campaign for International Development (who are keen to send out speakers to Constituency Labour Parties) Preet Gill spoke without interruption from her conservatory (whilst her children amused themselves behind her in the sitting room).
She repeated the usual adulation of DfID and was repeatedly adamant about the need for scrutiny of how the Overseas Aid budget is spent and wanted a new committee to do that, but if that were not possible as opposition parties don't have the resources of government, proposed frequent parliamentary questions to harry ministers.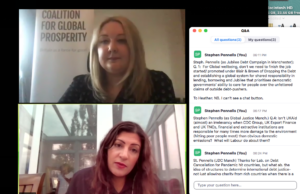 She also referred to debt cancellation, and the needs of countries in the Global South to be helped to recover post pandemic; but not to the proposal to set up permanent structures to adjudicate on irresponsible lending and allow for the structured "bankruptcy" of countries.
Although questions had been asked for and we had previously submitted 5, a couple of which we posted again in the Q&A, those selected seemed to come from insider colleagues and institutions and the session had been configured so we did not have a Chat facility to communicate laterally, find out who was there and spread ideas.
One had the feeling that things were being managed to avoid any nastiness – perhaps they were wary of zoom-bombing attacks. Or perhaps they simply don't grasp that anyone interested in international poverty eradication might want to seriously interact with divergent ideas.
This outlook is evident in their blogs; diverse, but not divergent. Many seemed to be about "us" and "Britain as a force for good" (their strapline). I didn't read them all, but the word "justice" doesn't appear in the given introductory paragraphs. Not once. You might think that says something if you support an organisation like Jubilee Debt Campaign or Global Justice Now.
Preet Gill appeared to be someone to support – and lead to further and more radical steps. She seemed to me to be stuck with denigration of the Tories, while at the same time swallowing a "prosperity" mindset.
Going on about the Great British Public supporting Aid and being generous is all very well, but it doesn't bring structural change unless political action is taken.
A luta continua
– Stephen Pennells
The pictures come from https://www.coalitionforglobalprosperity.com