Saturday 14th. April found us at Chorlton & Whalley Range Big Green Happening- this year moved to the Carlton Club in Whalley Ra. The sun shone and folk came along who were quite amenable to conversations and sympathetic to our campaigns.
Primarily we sought signed cards to MPs to support Caroline Lucas' NC3 amendment to the Trade Bill (which will save dozens of specific campaigns tackling individual bilateral trade deals). This harvested 49 cards.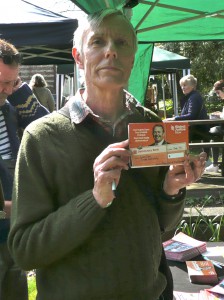 Brian Candeland, Green Party
Candidate for the Chorlton Park Ward
on Manchester City Council
realizes the link between trade and
environment.
As a follow-up we also asked people to sign War on Want's trade card which asked MPs to take up the issue of trade democracy with the government. (This brought a further 32 cards.)
Liz Howard, Minnie Mouse and Manchester Friends of the Earth demand Trade Democracy!
Secondarily we promoted the GJN Pharma campaign gaining 17 cards.
Two people went out of their way to sign up for updates and contact from Global Justice Manchester and we gave away some briefings, posters, complementary back copies of 99 and badges.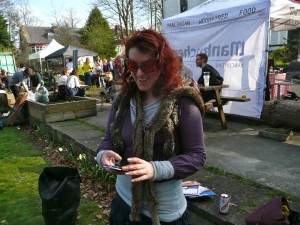 Jess Mayo, emailing her MP.
We met a number of old campaigning friends, allies and acquaintances. These included Jess Mayo, Green Candidate for Manchester Gorton in the 2017 General Election. She objected to using a paper card but took action there and then. She emailed her MP, Kate Green to thank her for co-sponsoring the amendment saying "Credit where credit is due".
We've ordered more materials for the May Day/ TUC 150th. Anniversary event at the Mechanics Institute in a fortnight's time. But time is short and the issue is critical so we can't be complacent. The government may feel the Syria crisis provides good opportunities to push through their Bill whilst the media and attention is focused on something more spectacular. The cards should be on MPs desks by the end of this week. Let's get some more!
Steph. Pennells,
GJ Manchester