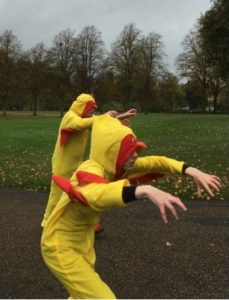 Global Justice Shropshire members dressed as chlorinated chickens to cluck about the dangers of a US-UK trade deal for our food production standards in The Quarry in Shrewsbury, all at a social distance.
This was part of the national day of action against the many dangers of a US-UK trade deal on Saturday 24th October 2020.
European Movement Shropshire and friends also displayed a banner and posters to say 'Save British food', 'Save British farming' and 'Hands off our NHS' in Red Square in Oswestry, with the sculpture of 'The Borderland Farmer' looking on.
Visit Global Justice Now's Flickr and DropEvent galleries to see people all around the UK creatively opposing the dangers of a US-UK trade deal.
Read Nick Dearden's short book 'Trade Secrets' to find out 'The truth about the US trade deal and how we can stop it'.
Chapter 2 of 'Trade Secrets' studies 'Regulations, food and letting big business write the rules'.
<<Chlorine-washed chicken has come to symbolise a US trade deal. The washes remove bacteria which have accumulated over a tortured lifetime.>>
Chapter 3 of 'Trade Secrets' probes 'The NHS, public services and procurement'.
<<The US health system is preyed upon by gigantic corporations which charge whatever the market will tolerate. These same corporations are international operators, desperate to push market mechanisms onto the British NHS.>>
Chapter 6 of 'Trade Secrets' confronts 'Climate change'.
<<Climate change is driven onwards by the rules of the global economy. Trade rules and trade deals have played a significant role in exacerbating this crisis.>>
Visit Global Justice Now's 'Trade justice' web pages to get involved in the campaign for trade rules which work for people and the planet.