THE SCANDAL OF BIG PHARMA EXPOSED
Author Nick Dearden spoke to local people, including members of Global Justice Now, on the scandal of the way big pharmaceutical companies protect their own business through the patent system. Countries such as South Africa were prevented from producing vital Covid vaccines in their own factories because the large companies held the patent property rights. In his book Pharmanomics: How Big Pharma Destroys Global Health he says: 'Big Pharma is more interested in profit than health.'
During the book launch at The Pig in Hastings on 13 October 2023, Global Justice Now Director Nick Dearden explained how big pharma ignores diseases which won't make them huge profits, meaning millions of people suffer from preventable illnesses each year.
Even when new drugs are developed, big pharma companies charge so much for them that many countries across the world often can't afford them. Even the NHS  has to ration access in some cases.  Many of the most important new medicines are made with public money. But our current system allows big pharma to privatise and patent these medicines, leaving these corporate giants to decide who gets them and for how much.
Big pharma is failing. We need a new system that puts people's lives before profit.
Climate vulnerable countries, such as small island states, have long argued that a 'loss and damage' compensation fund is necessary to help them rebuild after climate disasters, and that rich countries (who have contributed the most to global warming) should pay for it.
However, richer countries such as the US, UK and EU nations have been accused of blocking these proposals and refusing to accept their historic responsibility for global warming.
Supporters of Global Justice Bexhill and Hastings celebrated International Loss and Damage Day, 22 September, by tsking part in a Walk of Witness around places of worship in Bexhill Town Centre, stopping at each for a few moments of silence.
GLOBAL JUSTICE IN HASTINGS
On 7th August 2020 Global Justice Bexhill and Hastings had a stall at the "Garden of Cultural Delights" convened by Hastings and Rother Interfaith Forum.
In the runup to the UN climate conference in Glasgow in November 2021, Global Justice Bexhill and Hastings held a stall in Hastings Town Centre demanding the government rejects ISDS (Investor-State Dispute Settlement, or corporate courts).
Supporters of Global Justice Now joined Extinction Rebellion calling on Hastings Borough Council to take positive climate action in preparation for COP-26.
The action culminated in a die-in outside the council offices.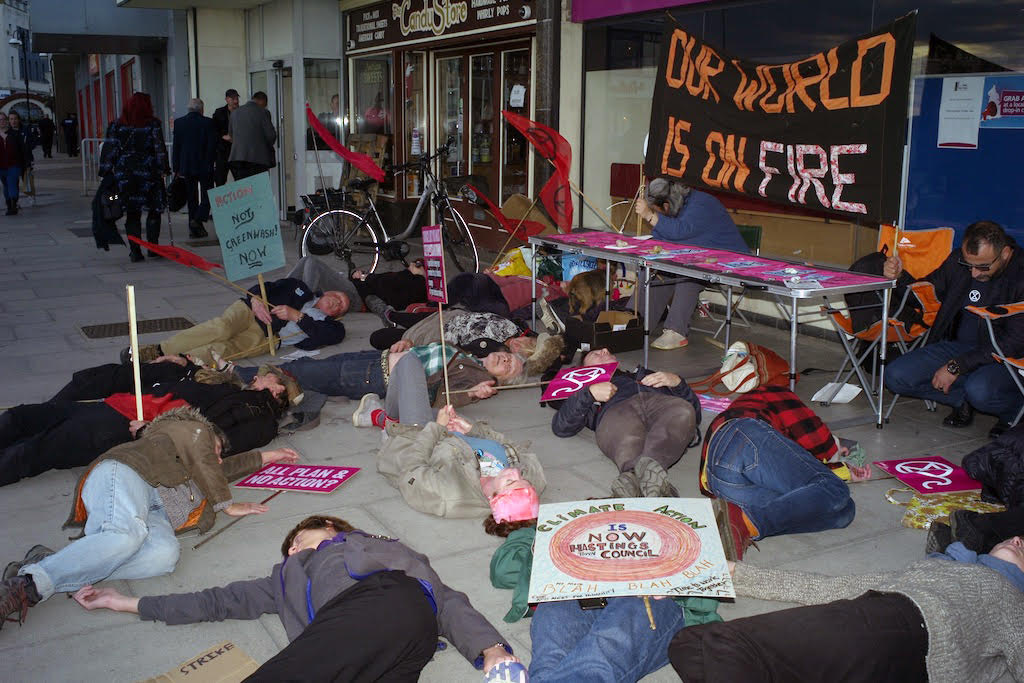 On 24th October 2020, members of Global Justice Bexhill & Hastings held an information table on the US Trade Deal.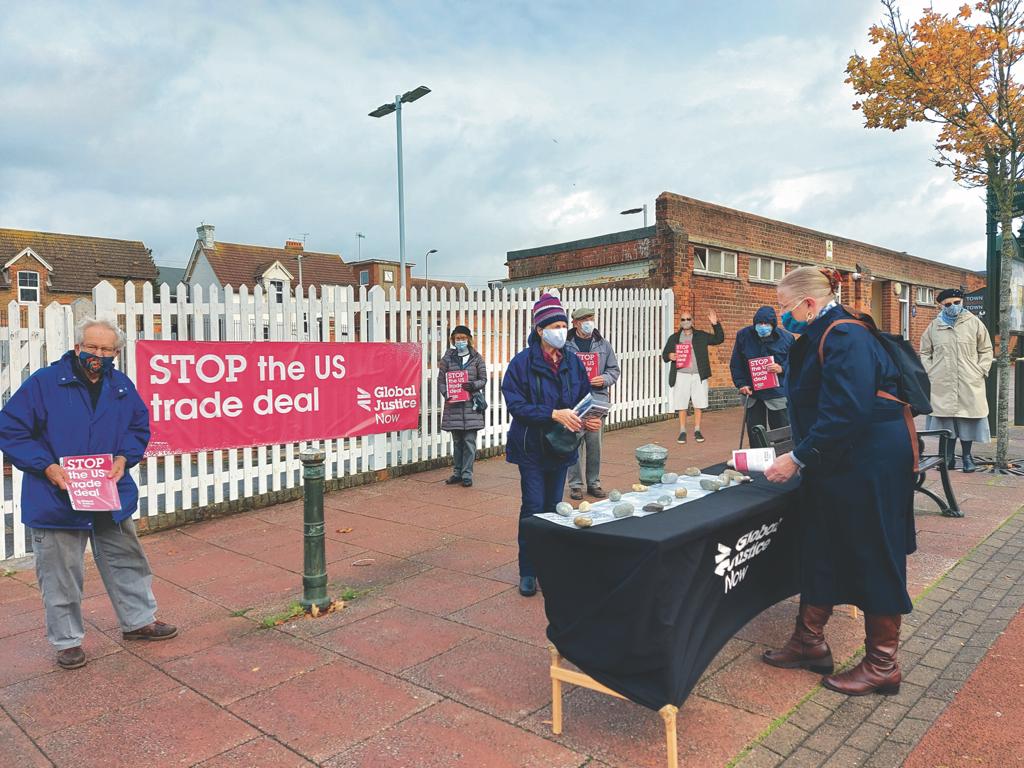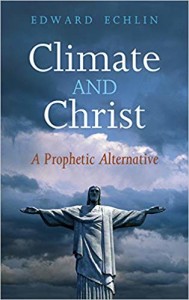 We sadly record the death of our oldest member, Edward P Echlin, on 23 December 2019.
We give thanks for Ed's life and his wisdom, and offer our condolences to his wife Barbara in her grief.
GLOBAL JUSTICE BEXHILL & HASTINGS SUPPORTS ARMENIAN PROTESTERS
Another successful day at this splendid annual multicultural event. The new Top Trumps game proved to be a useful tool for engaging people with the difficult subject of ISDS (Corporate Courts).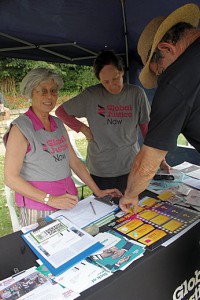 Julia Dance writes –
"Once again we were at the St Leonard's garden annual event organised by the Hastings Interfaith Forum. We played the new medicines game,  "The Price is NOT Right " to great effect; even several medical professionals  were shocked to see the hard hitting evidence it presents. Information from our Migration campaign also went well. We seemed to be talking non-stop for about 4 hours,but , mysteriously, I still was able to consume a few pieces of  delicious, homemade cake and two helpings of wonderful curry".
On May Bank Holiday Monday 2016, we were kindly invited to hold a stall at the annual Open Garden event run by the Bexhill and Hastings United Nations Association. The setting – Ed and Barbara Echlin's beautiful organic, biodiverse food garden – provided a wonderfully apt backdrop for us to spread awareness about Global Justice Now's work, with a focus on our food sovereignty campaign.
Many interested people shared misgivings about the extent corporate players are involved in our global food systems, and we gathered new signatures for our petitions as well as giving out many leaflets and action cards. But we found that whilst Monsanto may have gained a reputation for being less than exemplary in terms of its ethics and social and environmental impact, the actions – even existence – of the New Alliance are far less well-known.
So what is the New Alliance? And why should we be concerned?
Run by the G7 countries, the New Alliance for Food Security and Nutrition is an aid scheme that claims it will lift 50 million people out of poverty by 2022. The UK alone is pumping £600 million of aid funding into it. However, in return for aid African countries have to make changes to their land, seed and trade rules that benefit big business including Monsanto, Unilever and Nestlé. This is at the expense of the small-scale farmers who in fact supply the majority of the continent's food. These farmers now face the risk of land grabs, seed privatisation, the spread of harmful chemicals and increased debt, whilst cash crops for export are prioritised by corporations over the food that will feed local communities. No wonder then, that African farmers' groups have described the initiative as like 'a new wave of colonialism'.
Global Justice Now activists across the country have therefore been campaigning against this scheme, lobbying our MEPs and demanding that the EU ratifies a strong critique of the New Alliance.  And indeed, this work seems to be paying off: a highly critical report has been accepted by the European Parliament, highlighting numerous concerns and shortcomings of this corporate model of agriculture.  So we need to maintain pressure on the EU, and to demand accountability from our own government: is this really how we should be spending our aid budget?
We believe, clearly not. Better would be the promotion and financial support of the international movement for food sovereignty. As part of an international alliance that includes farmers, peasants, indigenous peoples, activists and many more, we are calling for a food system that benefits people and the environment, not just the profit margins of big-business. Food sovereignty gives control and ownership of the production, trade and consumption of food to communities, not corporations. And it values sustainability, biodiversity and environmental protection: agroecology, not agribusiness.
This ethos is clearly alive in Barbara and Ed's garden, and visitors to our stall couldn't fail to see the value of it. We hope that many more will join us in our campaign, and help fight for a world where food, land and seeds are where they belong: in the hands of the people who need them to survive.
You too can join the campaign against food speculation.  Sign the WDM petition online  –  now!     Then sign this French petition against land grabs in Madagascar. A Challenge to our MP We call on Greg Barker, our local MP, to reflect the voices of hundreds of his constituents as he leads debate on a new Government Bill in Parliament. Local people have backed a petition expressing their concern that the Government's Energy Bill is too weak to deliver the energy savings in homes and communities needed to cut rising fuel bills and dangerous climate changing emissions. Mr Barker has a crucial role in shaping the legislation as Climate Change and Energy Minister. He has already listened to constituents and nationwide calls for improvements to the Bill – for which we congratulate him. However, we need him to go further. In particular: ·         Give councils the independent advice they need to tackle climate change, and ensure every council has a plan to help communities go green.  ·         Protect tenants from living in cold, energy-leaking rented homes by 2016, and strengthen energy efficiency standards over time.  ·         Ensure that Government has a plan for every home to be insulated.  These measures would support local efforts by Rother District Council to tackle fuel poverty and would help to create green jobs across the District. Greg Barker made clear his commitment to these issues at a recent public meeting in Battle. Now we're asking him to ensure the Government's Energy Bill delivers the legacy of decent standard homes and effective council action on climate change needed. Brenda Pollack (Friends of the Earth, South East Regional Campaigner) Barbara Echlin (Christian Ecology Link and Operation Noah) Christina Lucey (CAFOD) Denis Lucey (WDM) Christopher Strangeways (Rother Environmental Group) Wendy Gubby (Christian Aid) Allan Bula (Bexhill and Hastings United Nations Association)
Public Meeting with Gregory Barker, MP, Minister for Energy and Climate Change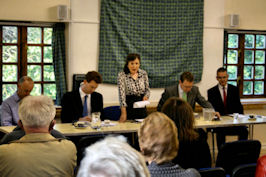 A public meeting in Battle, Sussex, on 20th May gave constituents a chance to challenge our MP, Gregory Barker, the Minister for Climate and Energy.  This meeting was arranged by local representatives of the national organizations who are part of the Stop Climate Chaos coalition, and members of local environmental groups: Bexhill Environmental Group, Cafod, Christian Aid, Christian Ecology Link, Friends of the Earth, Operation Noah, Rother Environmental Group, Tearfund, United Nations Association, and the World Development Movement.
Paul Cook, of the Tear Fund, pressed the Minister to urge the World Bank to invest in renewable energy and stop subsidising fossil fuel.  Martyn Williams, of Friends of the Earth, encouraged him to improve insulation standards for existing homes.  Chris Rowland of OVESCo, an agency for sustainable energy, pressed him to continue the provision of feed-in tariffs for renewable sources of electricity.
TARGETTING BARCLAYS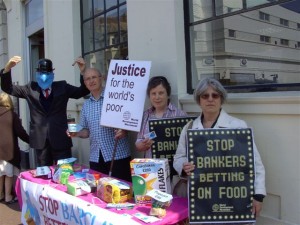 April 2011 was a month of action against Barclays.  Barclays Capital is the UK's prime culprit in food speculation, creating hunger by pushing up the price of key staple foods.  Food prices have risen in the UK, but the effect in poorer countries has been devastating.  There people are forced to spend most of their income on food just to stay alive.  Barclays AGM was held in London on 27 April, so the local WDM group held a surprise stunt outside Barclays Bank,  Bexhill on Tuesday 19 April.  Local WDM chairman Denis Lucey dressed up as a banker, with a Barclay Eagle mask to attract attention.
Bexhill was privileged to stage a session on Tackling Global Hunger on Saturday 12 March, organised by local groups WDM and Bexhill Fairtrade as part of discovering how to solve a most urgent and drastically worsening problem of our age.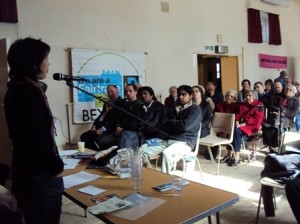 Before a large, inquiring audience, Heidi Chow of the World Development Movement gave a series of insights into the futures contracts which were brought in over 200 years ago to help farmers manage their risks. These contracts, which safeguarded basic foods, were deregulated in the 1990s, resulting in reckless speculation by wealthy bankers, causing the price of basics such as wheat, maize and rice to escalate.There is no shortage of food in the world but high prices mean that there is starvation. The reality of poverty and how earnings are spent was illustrated by a lady working on a rubbish tip in Kenya and having to spend most of her income on a bag of maize, with little left for other necessities; equivalent to someone here earning £300 a week and having to pay £250 for bread. An important point emphasised by Heidi is that money is not the answer to world poverty. Systems and attitudes have to change. She urged those present to support WDM's campaign for regulation of reckless speculation on food by wealthy bankers.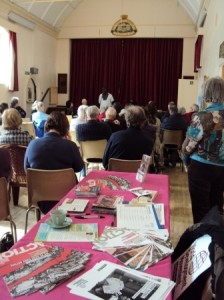 Alex Yeboah-Atari
Alex Yeboah-Atari was able to explain just how fair trading has changed the whole quality of life, educational , medical and environmental on the Banana Estates at the River Volta in Ghana. He wanted to pass on appreciation to all for supporting Fairtrade. He showed how it does work.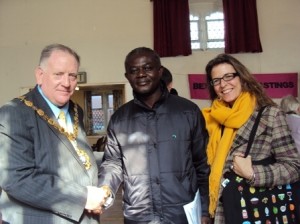 Hannah on behalf of Fairtrade Foundation congratulated Bexhill on their wonderful promotion of Fairtrade. She emphasised that in times of economic downturn like the present one, it's no use telling people to tighten their belts if there is no room left to tighten!  Fairtrade is a robust economic model; where it is in operation there is far less reliance on aid, so trade not aid is the answer.
The Mayor, Councillor Jimmy Carroll, welcomed our learned and personable visitors to our town and thanked them for their contributions.