We were out doing street tableaux with Greater Manchester Trade Action Network this month, highlighting Dangerous Deals in the Dark.  Our puppet show illustrated the power of both the US and corporate capital over our government.  Look out for further appearances on the streets of Manchester in the coming weeks and months.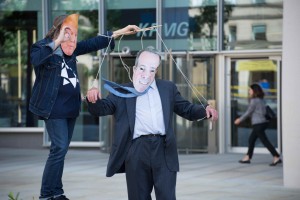 Donald Trump pulls Liam Fox's strings outside the offices of KPMG, a major lobbyist of the UK Government
More photos at the GMTAN blog and our Facebook page, plus full report in The Meteor.