Wednesday 17th October, 7pm-9:30pm
A film screening then discussion of The Spider's Web: a film that investigates how Britain and its dependent territories became the world's largest tax haven. Sam Al-Hamdani from Fair Tax Mark will be introducing the film and answering questions about it.
7pm, for a 7:15 pm start. To be sure of a place, email: globaljusticesheffield@gmail.com.
A promotional event for Sheffield's Docfest 2019. Refreshments available. All welcome.
Venue: Norfolk Room, Central United Reformed Church, 60 Norfolk Street, Sheffield S1 2JB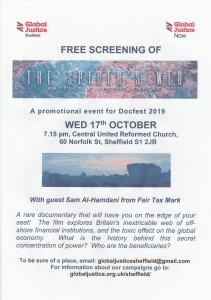 Note: Global Justice Sheffield's AGM will be held in the same room 6:30pm to 7pm.
About the Fair Tax Mark
The Fair Tax Mark is a certification scheme that promotes businesses who are committed to fairness and transparency around corporation tax. We work with organisations overseas to deliver effective methods of encouraging business to pay their taxes – such as effective country by country reporting (CBCR), the setting up of Fair Tax Mark organisations overseas (Fair Tax Mark Finland recently accredited their first business), and effective registers of ownership.