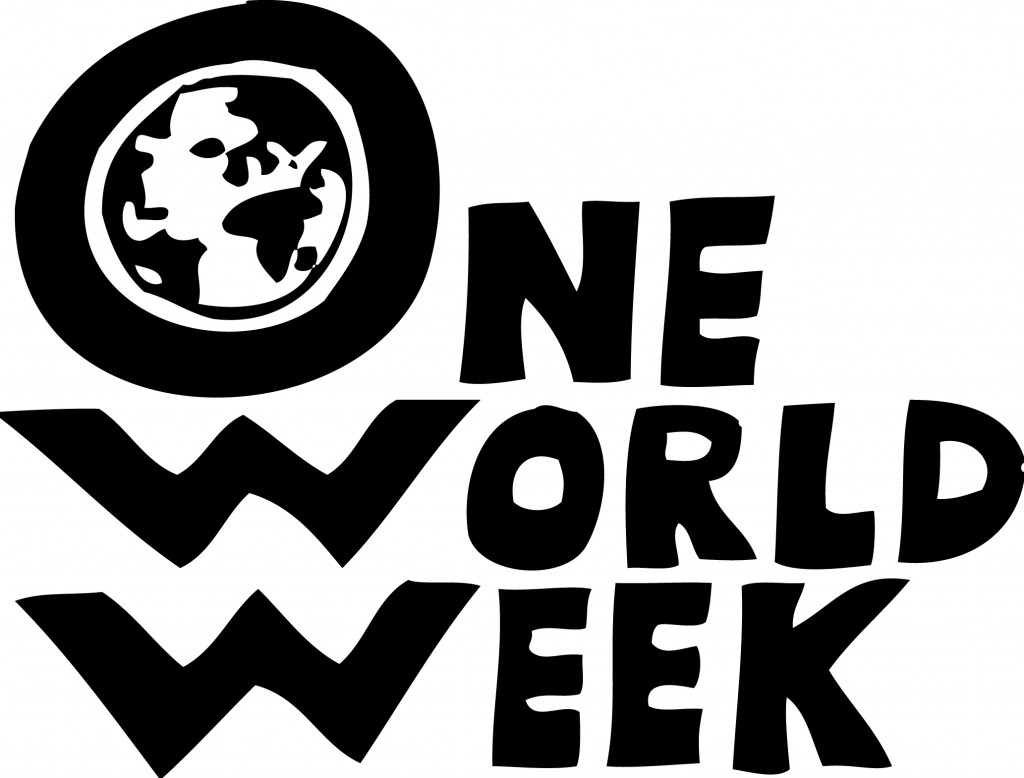 Global Justice Portsmouth always supports One World Week and our programme for 2016 is below.  
If you'd like to see photos of our events have a look here 
ONE WORLD WEEK 23-30 OCTOBER
A lot of these events are funded by the National Lottery Celebrate fund
The theme for 2016 is 'Including You' and it's on migration and inclusion. www.oneworldweek.org/   You can find a list of local events on  One World Week – Portsmouth Events – Campaign Exchange
Sunday 23 October 2.30 p.m.Sacred Heart Church Portland St, Fareham PO16 0NF. Tea Party for Tools for Self Reliance. Entry £2. Tickets from john.vivian@ntlworld.com.
Chat over Chai 
Tue 25 Oct Deaf Centre 279 Arundel St 12.30 to 2.30 Talk on Fairtrade, trying some teas and other snacks. Getting to know each other.
Including you. – An Evening to consider a Portsmouth Response
26th October at St Thomas Cathedral, 7.30pm to 9.30pm. Chaired by the Dean, the Very Rev David Brindley with speakers Michael Woolley from Friends without Borders, Julia Thistleton-Smith from the Rural Refugee Trust, Jess Gealer  Modern Slavery Partnership and John Bosco Nyombi, a refugee from Uganda . Followed by a Q & A session and drinks and world nibbles. Groups working with refugees will have information stalls and ways of getting involved. Contact Sue Ward for details
sueandterryinpk@yahoo.com   07505 608651
Chat Over Chai
Thurs 27th Havelock Centre 324 Fawcett Road 12.30 to 2.30
Talk on Fairtrade, trying some teas and other snacks. Getting to know each other.
International Food Evening
Friday 28th October at 7.30 pm – Parish Centre Church of Sacred Heart & St Peter the Apostle 356 London Road Waterlooville PO7 7SR. Tickets £4 per person and £10 per family. Contact Philip Hayllar at philiphayllar@hotmail.com
One World Week Celebration
29th October 12 noon to 4pm at the Discovery Centre, St John's Cathedral, Bishop Crispian Way, Portsmouth PO1 3HQ.
An afternoon of world food, music and family-friendly activities where people from all over the world can meet – Including You! – Free but tickets required. Tickets from OWWcelebration@gmail.com
Quiz evening for Christian Aid
Saturday 29th October 7 p.m. St John's Church 1 Upper Saint Michaels Grove, Fareham PO14 1DN. Bring a team.
International Mass
Sunday 30th October at 10.30 am – Church of Sacred Heart & St Peter the Apostle 356 London Road Waterlooville PO7 7SR.
There'll also be a walk to Titchfield Haven on 30th leaving at I p.m. from Titchfield Church.  Let John know if you're coming to reserve tea. John.vivian@ntlworld.com
Dheepan
Portsmouth Film Society, Eldon Building. http://www.portsmouthfilmsociety.org.uk/
Fleeing civil war in Sri Lanka, a Tamil soldier poses as a husband and father to two other refugees to escape the ravaged homeland. In France, the makeshift family establishes a new life, onlty to find themselves embroiled in violence on the mean streets of Paris.
Winner of the Palme d'Or at the 2015 Cannes film Festival.
Introduced by a speaker from Global Justice Now.
Wed 9/11 7 pm 112 minutes Cert 15 France 2015
But come from 6.30 for Indian snacks and drinks.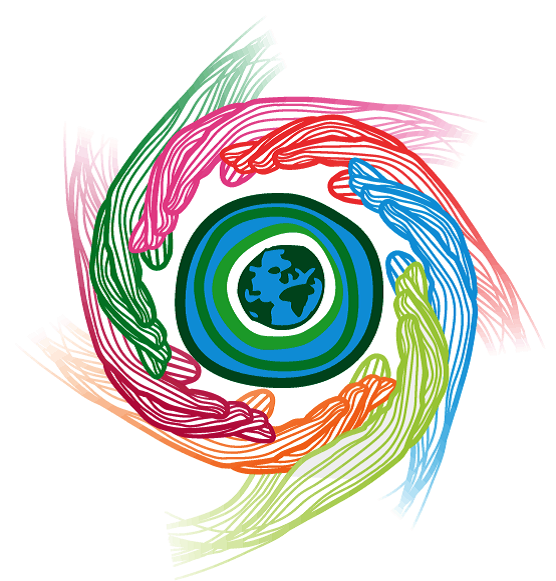 See our events page for  some of the ideas
This is what happened in 2015 on the theme of hope in Action
The theme addressed: "Issues of inequality" under the banner:
"HOPE  IN  ACTION – Inspiring a culture of hope to build a more equal world"
You can find loads of resources on the OWW website, including a very new worship guide, and have a look at the OWW Facebook page too.
Events 2015
Our big event in Portsmouth is on Wed 21st October from 7.00 at the Hub, Dennis Sciama Building, University of Portsmouth PO1 3FX. We're teaming up with Action Aid which is organising a Fearless Women speaker tour and are bringing us a speaker from Ghana on violence against women. We hope to have lots of stalls at this too and there will be a curry and soft drink for £5 and a discussion after the speaker.
To find out more about Action Aid's campaign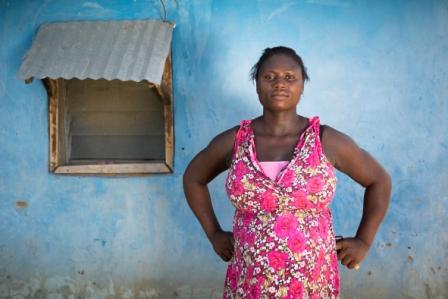 Churches Together in Milton, Eastney & Southsea have a One World Week evening on Refugees on Monday 19th Oct at 7.30pm in Christ Church URC, Milton. They are planning to show a DVD (projected onto big screen ) of the play, Exile. As well as local people working with refugees, an actor from the play will be with us. He's a refugee who'll be able to answer questions as we consider our response to the plight of asylum seekers .
In Havant, we have a One World Week coffee morning on Thursday 22nd with the Mayor of Havant and hopefully lots of stalls. Let us know if you'd like to bring one. It's at St Joseph's Church Hall, West St Havant from 10-12 and it's free.
We have a youth competition linked to this – local groups are invited to submit information about ways in which they help their community. If you know of worthwhile activities in the Havant area let us know (02392 250267) and we'll send you all the information.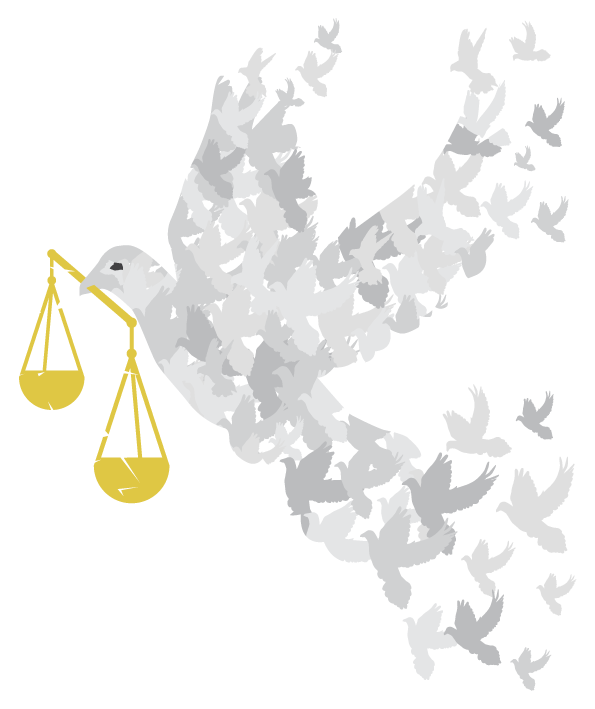 Sacred Heart in Waterlooville have two events:
Friday 23 October  International Food Evening Parish Centre church of Sacred Heart & St Peter the Apostle 356 London Road Waterlooville
PO7 7SR  7.30 pm Philip Hayllar philiphayllar@hotmail.com 023 92 251593
An evening meal with food prepared by people from a variety of countries  plus quizzes and information. Admission ticket only £4 per adult £10 per family
Sunday 25 October Mass with emphasis on OWW theme.                  All welcome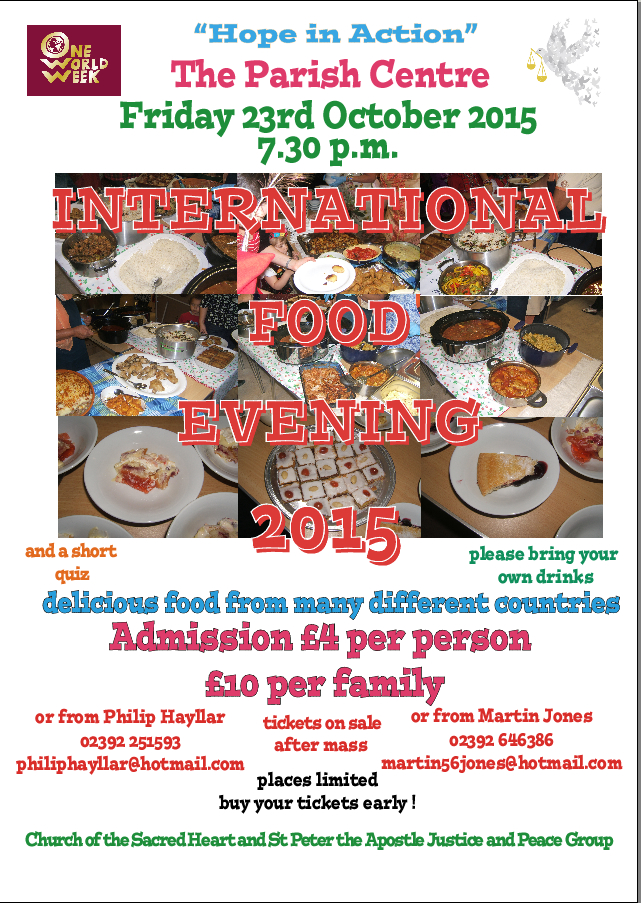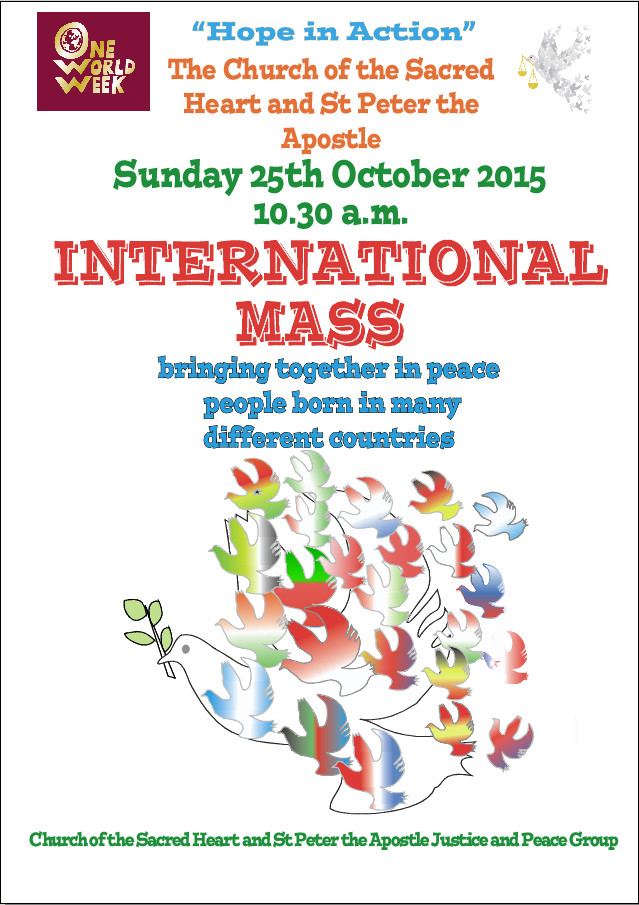 Portsm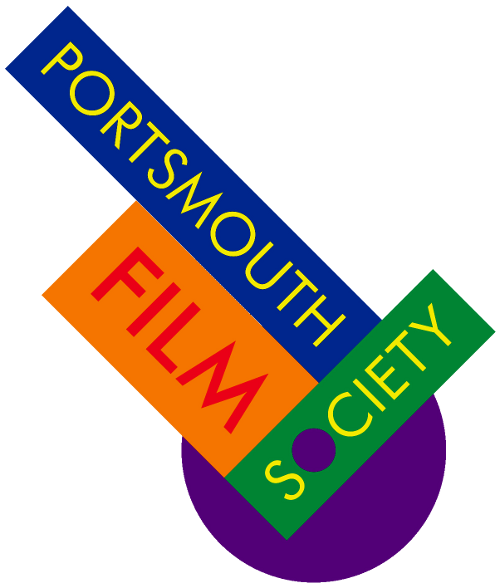 outh Film Society is putting on a special film for OWW:
The Lunchbox (2014)Tuesday | 20 October 7 p.m. Cert PG | 103 min The Lunchbox combines vivid, bustling scenes of daily life in the teeming city of Mumbai with a universal and unashamedly old fashioned romantic story. Irfan Khan (Life of Pi, Slumdog Millionaire) is world weary office worker whose daily routine includes a lunchbox delivered to his desk by one of Mumbai's dabbawalas. When one day he begins to receive the wrong lunchbox – containing unusually tasty home cooking – he's prompted to begin an unlikely romance.
And the film they have on the Thursday is supposed to be brilliant and very relevant:
Timbuktu  (France/Mauritania 2014) Thursday 22 October 7 p.m Cert 12A | 96 min. Set in the early days of the jihadist takeover of Northern Mali in 2012, the once bustling city is now near-silent, kept in order by soldiers who patrol the winding streets, employing their strict rules and swift justice to anyone who contravenes their law. The film's narrative weaves between small but significant stories: a woman refuses to cover her feet as she sells from a street stall, a local imam confronts the extremists calmly in his mosque – but at the centre of the story is Kidane, a local shepherd, who lives freely outside of the city in the desert with his wife and two children.
For more information on these films
We're also planning to have One World Week stalls at Wild Thyme in Southsea
 In 2014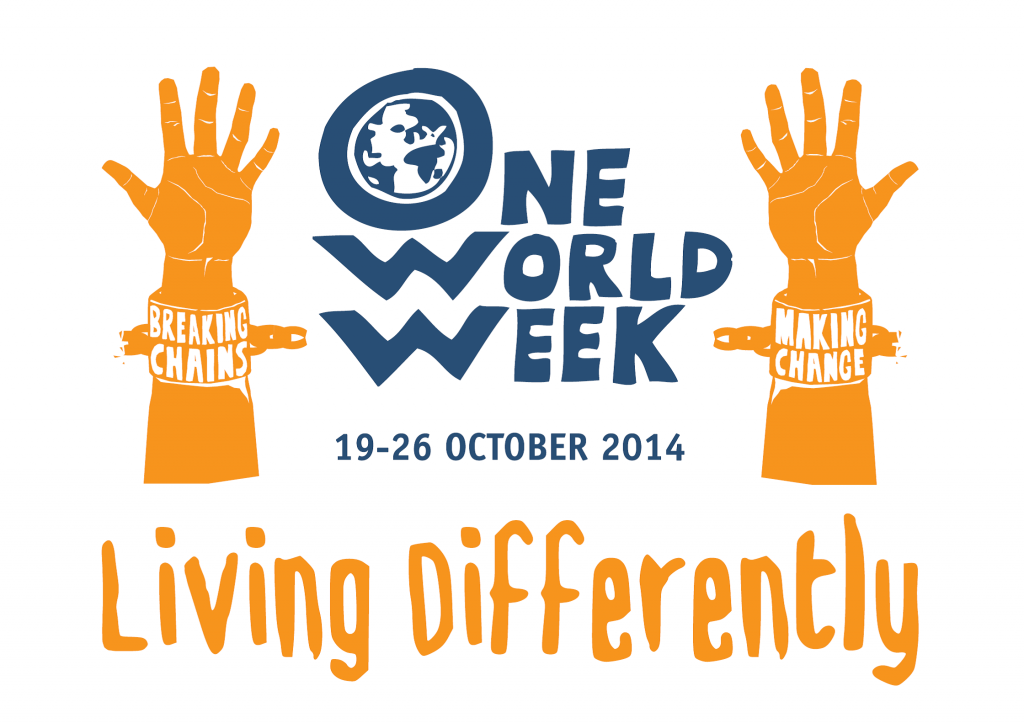 Living  Differently: Breaking Chains – Making Change
For more information contact Sue on 02392 250267       sue.james*yahoo.com (replace * with @)
Events in the Portsmouth Area
19-26 October 2014
18/19 Oct  Hunger for Justice weekend
Christian Aid/churches      http://www.christianaid.org.uk/ActNow/climate-justice/hunger-for-justice.aspx
Sun 19th Havant One World Week Event: Tea, cakes, pancakes, stalls and a chance to hear what local groups are doing to live differently and make the world a fairer place.
Havant United Reformed Church Elm Lane Havant PO9 1PP 3.30 – 5.00
Mon 20th Display on the threats to African agriculture from big business.  Portsmouth University Students' Union
10.00 – 4.00 Come and meet Ed Lewis, WDM's new Groups Officer.
Tue 21st Cash with a Conscience: workshop on using money to make changes. Stalls and presentations.
Speakers:
Christopher Borysiewicz – Epworth Investments and Methodist Finance Board
Charlotte Page – Christian Aid's campaign with Share Action on pensions
Andrew Adams – CCLA
Rev Antony MacRow-Wood – Churches Mutual Credit Union & Past President Assoc. British Credit Unions Ltd
Stephen Morgan – Financial Secretary Portsmouth RC Diocese
Central Library Portsmouth 6.30 p.m.
Free admission
Tues 21st  A OWW event Organised by Churches Working Together in Cosham: Monitoring human rights in Palestine and Israel
Rev Giles Harris-Evans will be speaking about his experience.
"Nibbles" featuring food from the region will be served.
 The Link, Cosham Baptist Church, (48 Havant Road, Cosham, Portsmouth, PO6 2QZ )  at 19.30  – all welcome!
Wed 22nd 10.30  to 12.00 Living Differently – Mayor's coffee morning  Sacred Heart RC Church London Rd, Waterlooville PO7 7SR
£2 including coffee and biscuits.
Thur 23rd Dining Differently – a meal cooked by FoodCycle volunteers John Pounds
Community Centre, Queen St Portsmouth PO1 3HN
From 6.30 p.m.
Speaker: Ruth Valerio of A Rocha on Living Differently.
Tickets £8 from Sue James 92 250267 or Sarah Hirom 92 582140 to raise money for the Portsmouth FoodCycle project.
Fri 24th International evening
Sacred Heart RC Church London Rd, Waterlooville PO7 7SR
7.30 p.m. Tickets £4 individual, £10 family from Martin Jones 92 646386 or Philip Hayllar 92 251593
For more about One World Week – visit their website : www.oneworldweek.org
Previous One World Weeks in Portsmouth
2013 – "More than enough?  – Aspire not to have more but to be more"
Some pictures from our FOOD FUTURES evening at Highbury College with Nick Dearden the Director of WDM 22.20.13
———————————————————————————————————–
Below: photos from  our 2012 "Sharing Destiny" OWW event at The Hub, University of Portsmouth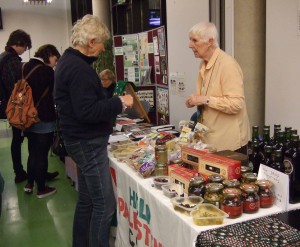 ——————————————————————————————————————-
 OWW 2011 "Living for One World" at St Mark's Church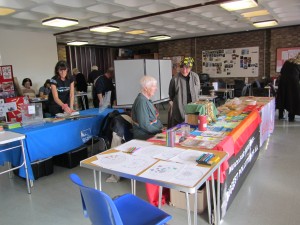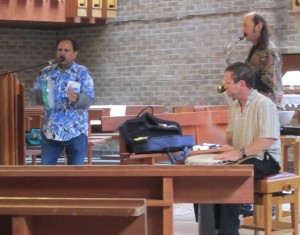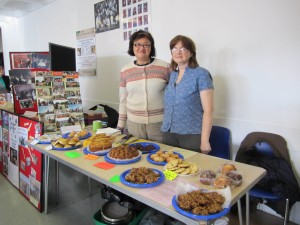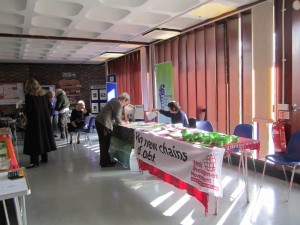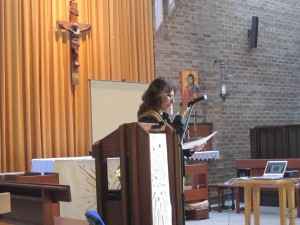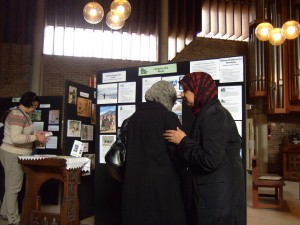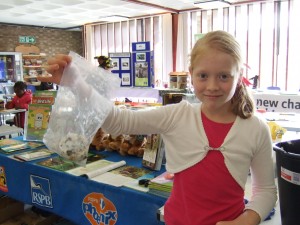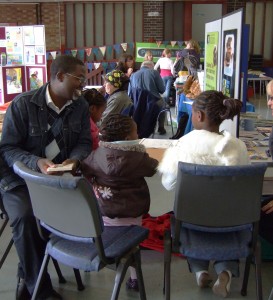 You can get more background about One World Week here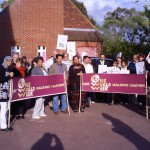 One World Week 2010 PEACING TOGETHER ONE WORLD
Portsmouth One World Week group held an event  at the John Pounds Centre.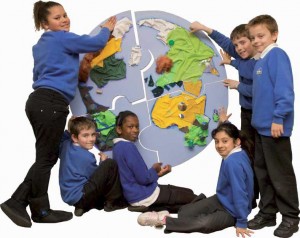 We had a choice of discussion, poetry, art and craft workshops related to Peace run by groups like the Peace Council, the Baha'i group, Portsmouth Fairtrade Forum, Refugee Action and Portsmouth Interfaith Forum as well as information stalls about local organisations working for peace.
The aim was to bring together people from diverse communities, faiths and organisations in Portsmouth to explore how we can make the world a more peaceful place for our families, and communities and the wider world.
Have a look at the excellent resources on the website www.oneworldweek.org
Fairtrade and Peace
We have a new PowerPoint presentation on how Fairtrade helps people caught in conflict situations. Get in touch if you'd like to see it.
Photos from the day