We'd like to invite you to a Global Justice Nottingham event on Zoom on Tuesday 16 June.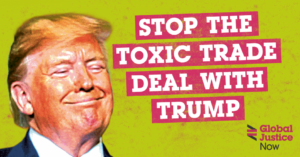 Stop the toxic trade deal with Trump
When: Tuesday 16 June at 7.30
Where: on Zoom
With Jean Blaylock, Global Justice Now's lead trade campaigner.
To attend, please email globaljusticenottingham@gmail.com, and we will send you the link to join the meeting.
What we'll discuss:
Johnson's government has started formal negotiations for a trade deal with the US. This could see chlorinated chicken on our shelves, US corporations deeper in the NHS and action on the climate emergency blocked.
We can't let this damaging deal happen. Join us to discuss the issues and find out how we can resist a trade deal with Trump.