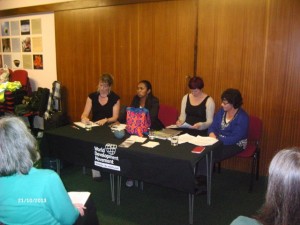 WDM held a successful speaker meeting at the Friends Meeting House on 21st October.
The speakers were Yasmin Romero Epiayu, Fuerza de Mujeres Wayuu, Colombia and Kirsty Wright, World Development Movement climate campaigner
Banks, hedge funds and pension funds based in Britain are bankrolling the extraction of fossil fuels all over the world. These dirty energy projects are wrecking communities and fuelling climate change while doing nothing to increase energy access for local people.
Yasmin Romero Epiayu lives in the La Guajira region of northern Colombia, where the giant Cerrejón coal mine has swallowed up whole villages, forced people out of their homes and destroyed the local environment. The coal that is extracted is exported, fuelling dirty electricity production and causing climate change. Yasmin will talk about how her indigenous women's organisation, Fuerza de Mujeres Wayuu, has been working in a coalition to fight the expansion of the mine.
This event was part of the Carbon Capital speaker tour, organised by the World Development Movement with the help of Colombia Solidarity Campaign, London Mining Network and Down to Earth.
Find out more about our campaign at www.wdm.org.uk/carbon-capital