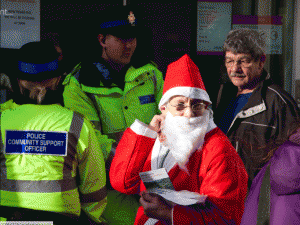 HSBC Finance Climate Change
Being part of WDM Manchester's action on 21 December was a fascinating experience for me.  I dressed up as Father Christmas [which I had never done before], and marched along with the group through St Ann's Square to HSBC bank, and went to go in.  I was stopped at the door, and simply asked if I could see the manager because I had something for him, and immediately the doors were shut in my face.
I thought the manager would soon appear and sort out the difficulty, but nothing more happened.  I stood waiting to go in, with a gathering crowd of others wanting to go in and use the bank, and looked through the glass doors to see those who were in the bank already also queuing to get out.
No reasons were given for this stalemate, and so we might have remained for a long time, except that the local community police, concerned at the gathering crowd, were allowed in, and then came out to tell me that the bank was not going to let me in – no reasons given – so I ought to move out of the way.
The bank was prepared to stay shut for half an hour on a busy pre-Christmas Saturday rather than risk talking to a diminuative Santa Claus!  It smacks of a guilty conscience to me, they must have known they were on Santa's 'naughty' list, and did not deserve their present.
Ann Hiller
Manchester WDM
Campaign Link: www.wdm.org.uk/carbon-capital