Members of Global Justice Leicester have busy campaigning over the last few months.
In July, Global Justice Leicester and Global Justice Cambridge jointly ran a stall at the National Justice and Peace Conference in Swanwick. This conference was entitled – 'Justice, Power and Responsibility: How can Democracy work for the Common Good?'. We were delighted with the enthusiastic response of conference goers to our Global Justice Now resources.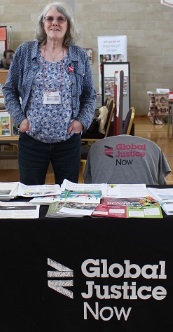 The Global Justice Now migration campaign was particularly popular. This campaign resonated with people who believe in tackling the root causes of poverty and injustice. Migration should be the right of everyone, not just the privileged few.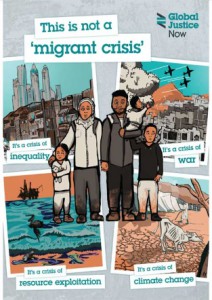 Copies of the migration campaign leaflets can be ordered from the Global Justice Now website
In July Global Justice Leicester also contributed to the Christians Aware Summer School – 'Hope for the Planet'. Alison from Global Justice Leicester spoke about unsustainable growth and development that damages the poor and the environment. Participants watched Naomi Klein's 'This Changes Everything' and discussed the important challenge of climate change.
At the Leicester CND Peace Party on 10th September Global Justice Leicester had a stall that focused on migration and also the trade deals that threaten our democracy. Please contact your MEP to reject CETA (Comprehensive Economic Trade Agreement, with Canada). CETA could threaten environmental protection and worker's rights.