CLIMATE FINANCE AND DEVELOPING COUNTRIES
This is a summary of issues raised in various online reports and COP 26 decisions – written by Alison Skinner who is a member of Global Justice Leicester and Leicester Friends of the Earth.
We know that  getting climate justice for the nations most affected by climate change who have contributed little or nothings in emissions is a huge priority.   These include Tuvalu and the Marshall Islands threatened by rising sea levels, parts of sub Saharan Africa and the Arctic and the Caribbean.
The pledge from Copenhagen 2009 to provide $100b a year starting  2020-25 has not yet been delivered – figures from 2019 show that poor countries were given $80b  according to the OECD.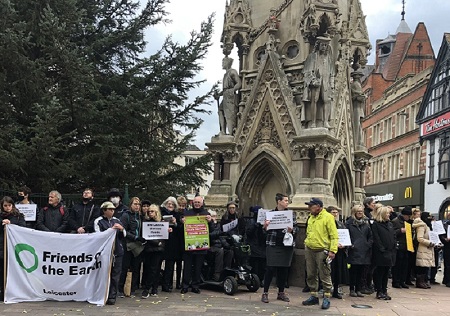 The two main distinctions are between money for projects aimed at mitigating green house gasses such as developing  alternative energy generation using solar panels, hydro and wind farms etc.and projects designed for adaptation such as early warning systems for extreme weather events, air conditioning to counter extreme heat, resettlement of communities away from coastal areas and changing agricultural practices to crops more resistant to draught. Examples from the November Geographical magazine include creating mangrove seawalls in Indonesia, building amphibious rather than stilted houses in Vietnam and planting salt tolerant crops in Bangladesh.
Both approaches are valid but the key issue for developing countries  is that only about 20% of the $80b funding allocated is for adaptation projects – Global North countries preferring to sell the type of material on which they can make a profit.
Global South countries are lobbying for the financial allocation between these two approaches to be 50:50 rather than the skewed distribution at present.
Another problem is the status of the finance provided. In 2019 71% of the public climate finance took the form of loans rather than grants and this can suck poorer countries into a cycle of debt.
They have to borrow money at punishing rates of interest to repair the effects of hurricanes and cyclones.and if they use their loan to pay for a project that gets destroyed in the extreme next weather event they are left with a debt and no tangible benefit.
Small island states and least developed countries are now lobbying for a new stream of funding for loss and damage in addition to mitigation and adaptation projects. Historically the Global North has been extremely reluctant to buy into this and resists any notion of funding being compensation or restitution.
Antigua, Barbuda and Tuvalu have announced a commission to explore if there might be legal grounds for loss and damage funding from polluting countries. 
COP 26  Decisions
Many developing countries were left very disappointed by the decisions made on issues which were critical for them and it would seem that the conference was particularly a debate between Global North countries about how far they were prepared to go to reduce emissions having accepted to some extent there was some urgency required to keep within 1.5c. Some of the developing country decisions appear to be a holding operation to be considered at another day.  
Climate funding
There were new pledges from US, UK, Germany, Japan and others of climate funding which it is estimated would finally achieve $1billion by at least 2025 or perhaps a little earlier if other funding could be brought in. Some experts are saying that funding in trillions would be more realistic.
There was a recommendation, rather than a requirement, that developed countries should double their collective provision for adaptation projects by 2025, but this would still fall short of the 50:50 provision requested by Global South countries and there was no detail concerning time scales and transparency.
There was a mention of the impact of debt levels carried by poorer countries for the first time but no indication of how this could be reduced. It does provide a marker for future discussion however.
There was some recommendation about making funds available as grants but also recommendations about making cheap loans which still allowed wide discretion on the part of funders.
Jubilee Debt Campaign claims however looking at the small print that some countries may pay their contributions out of their existing aid budget instead of making new money available which is in the spirit of the funding. This could include the UK. 
Loss and Damage Funding
This was a very important issue for front line island nations and others which was effectively sidelined with the promise that a "dialogue on loss and damage would begin next year in Egypt."
To their great credit Scotland has promised £2m to a special Loss and Damage Fund, managing this way to provide UK money, but circumventing Boris and the Treasury who have made no such pledge. Wallonia – an area of Belgium has also pledged 1m euros.
There will be a huge head of steam on this issue by next year, particularly after another year of global warming induced weather events, so we will wait to see what transpires. 
Indigenous People Support
Five countries including the US and UK and global charities have promised $1.7b to support indigenous people and the conservation of their land. How this gets to the grass roots in an effective way will need scrutiny. 
Deforestation
A group of countries have pledged £14b by 2030 to halt and reverse global deforestation by restoring degraded land, managing wildfires and supporting indigenous people. This has included Brazil's president who will need detailed supervision on this!
The introduction of annual COPs means we are now in continuous campaigning mode on this issue
which should increase important pressure.