Visitors to the Christians Aware Advent Fayre at Christchurch on November 28th, signed WDM cards to Malcolm Bruce, Chair of the International Development Select Committee.
The cards protest at the priority given to pro market multinational/private sector approaches to aid giving.
They also ask the committee to hold a public enquiry which would scrutinise this trend at the Department for International Development (DfID).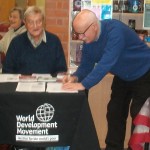 Some people who stopped to talk had first hand experience of work in developing countries and endorsed the initiative taken by WDM.