The UK government and the corporations trying to take control of Africa's food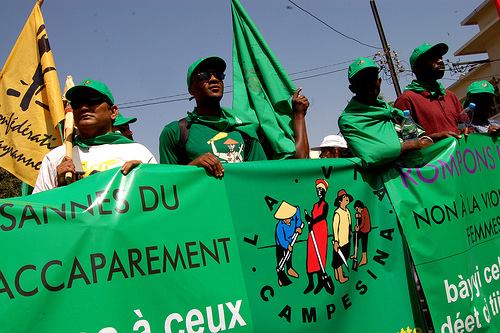 During the original 'scramble for Africa' in the 1890s, Europeans justified their colonialism as a benevolent mission to bring civilisation to the continent. Today, these colonial tactics are being deployed once again by rich country governments and big business who are colluding to take control of African land and resources. Initiatives with benevolent-sounding names like 'New Alliance for Food Security and Nutrition' are resulting in control of land and resources being taken away from small-scale African farmers and handed to multinational companies – all in the name of poverty alleviation.Come and find out how the UK government is using aid money to champion this corporate-led agenda and the harmful effects of these initiatives. Together we can join with African food producers to resist the corporate takeover of their land and livelihoods.
Thursday 1 May, 7pm – City of Edinburgh Methodist Church
25 Nicholson Square, Edinburgh EH8 9BX
Speakers: Janet Maro and Liz Murray
Janet Maro founded Sustainable Agriculture Tanzania in 2011, an umbrella organisation that acts as the leading centre for organic and sustainable agriculture in Tanzania. Janet is a practitioner and advocate of agroecological farming techniques, which are used to combat deforestation, crop disease and food shortages.
Liz Murray is head of campaigns and policy at WDM's Scottish office. She works to strengthen WDM's campaigns by adapting them to the Scottish context, lobbying Scottish MPs and MSPs and working with WDM's local groups in Scotland.
This is a free event but please register here https://www.eventbrite.co.uk/e/the-new-scramble-for-africa-tickets-11002748517