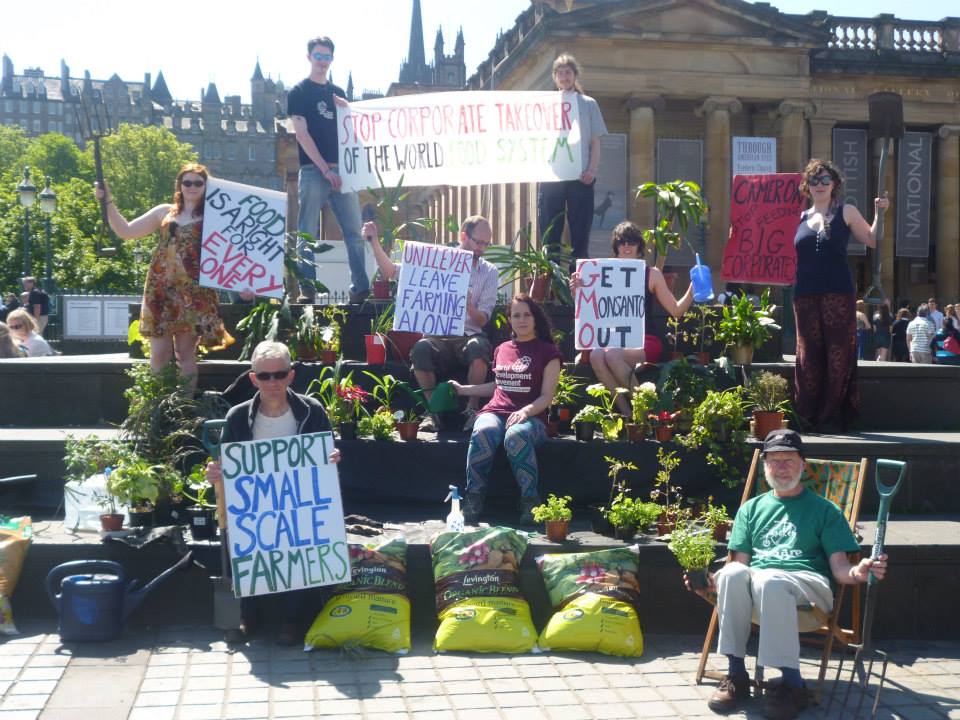 On Saturday 8 June, the Edinburgh and Lothians WDM group had a really fun day creating a pop-up community garden in central Edinburgh to demonstrate that food is a right for everyone not a commodity to make profit from. We had recruited lots of people to come along and bring their plants, tools, compost, seeds and banners, which made a very eye-catching display and brought lots of people over to have a look! We noticed quite a few tourists taking photos of what we were doing! So it was easy to chat to people and give them a leaflet to explain what we were doing and why, although a few people just thought we were selling plants, so maybe our banners should have been bigger… We had a corner of the community garden for 'plant your own vegetable for free', with a selection of seeds. This brought a few children, and we chatted to their parents while we were helping the children plant their seeds.
We took action to show that Scotland was in solidarity with other actions around the UK, and with African farmers, in rejecting the New Alliance, which was being discussed at David Cameron's Hunger Summit in London. Cameron was meeting with massive corporations including Monsanto, Cargil, Vodafone and Unilever, to pledge £395 million to "stop" world hunger. However, the New Alliance is going to spread land grabbing and GM across the Africa, where civil society has not been consulted but demand putting power in the hands of small producers not large corporations. In Edinburgh, and at actions across the UK, we wanted the public and politicians to be aware of the African farmers' views, and also see the New Alliance as Cameron feeding big business, rather than solving world hunger.
The Hunger Summit was set up to give Cameron his 'make poverty history' moment while signing away African people's rights and wrecking their livelihoods. Our banners on Saturday called for real solutions to the food system set out in food sovereignty. As 70% of the world's food is produced by small-scale farmers, these are the people who UK aid money should go to, to support food production, not large-scale agricultural corporations.  African countries joining the New Alliance must implement policies which will exacerbate hunger, such as making it easier for foreign investors to acquire land. A statement from African civil society rejects the New Alliance as part of a "new wave of colonialism" targeting their food systems for corporate profit.  When we explained this to members of the public they seemed to understand why we were protesting and were surprised about what UK aid money was going towards.
One of our protesters, Anna Mayfield, was quoted on the front page of the Morning Star newspaper: "We are standing in support of African civil society to tell the G8 leaders to stop privatising agriculture and destroying the livelihoods of small-scale farmers. We are also opposing the takeover of the food system by multinationals and unaccountable G8 leaders. Whatever decision is taken by the G8 will affect adversely African farmers and consequently everyone else in the global food system."
You can see more of our very sunny photos from the event here  and read about the outcomes of the Hunger Summit in London here.
If you're interested in finding out more on food sovereignty, WDM is having an event on 5 July in Edinburgh called Food security or food sovereignty: What direction for Europe? which will debate the principles of food sovereignty and food security, and examine some of the policies that the EU, UK and Scotland need in order to tackle the root causes of hunger. Deborah Doane, director of WDM and Pete Ritchie, director of Nourish Scotland will be on the panel. You can find out more here.
We had such a fun time creating a pop-up garden in the middle of Edinburgh where no-one would expect it! It made it a much more interesting and appealing protest, and really engaged the public. Watch this space for more unexpected, fun pop-up events around Edinburgh soon!