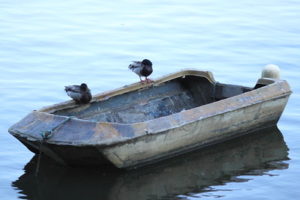 Jacob Berkson writes:
The 'illegal Channel crossers' story is all over the news at the same time that the government is in trouble. It is a classic rallying cry to the core Boris Johnson constituency. Populist racism is beginning to look a bit like a bad move with the breakthrough of the Black Lives Matter movement.
We are in a strong position to respond to the latest provocation. "What a surprise that just when the government is losing its grip, we suddenly have to make another defence of refugee rights".
Campaigns like 'Europe must act' need amplifying. Give the lie to the idea that Britain First is mainstream. People say things like "build bridges not walls".  They are quite right. They also need to do the building.
Refugee conventions are a bare minimum standard. We must not let the powers that be get away with redefining refugee protection as a cellar to hide in while the shooting goes on. That is the general drift of asylum policy across Europe:
in the reconsideration of your need for protection after five years rather than a more or less automatic right to indefinite leave to remain
in the idea that France is a safe third country and so nobody coming from France could possibly be a refugee.
Refugee conventions do not require you to claim asylum in the first safe third country. Legally speaking, you could well be a refugee and still be trying to get cross the Channel. Some of the people at the Home Office know that.
When they claim that people crossing the Channel in boats can't possibly be refugees, they mean that the only person whom I have any obligation towards is somebody in immediate danger. It is such a nasty position and it needs calling out.
Let's not insist that everybody getting in a boat crossing the Channel is a refugee. Anybody getting in one of those boats is desperate, but not every one of them has a fear of persecution. Let's defend people's right to the pursuit of "happiness" — "the well lived life"). There is a link with the Black Lives Matter movement. People have been made desperate by 400 years of European exploitation. The wealth that exists in this country, albeit badly distributed, is also a direct consequence of those policies. Having lost land, mineral resources, and access to social goods because of colonialism and its legacy, you might be desperate enough to try your luck over here. Good luck to you.
We need an expansion of search and rescue operations. International maritime conventions require the rescue of any person in distress. The UK should do more than the bare minimum to fulfil those obligations. The obligation of rescue exists even when the person in need of rescue is not a European. To treat distress in the Channel as an issue of border security is to say black lives don't matter. RNLI have been very clear that they would not be border guards. Anybody in distress needs rescue and that's what they would do. That message needs amplifying.
And it's not just about upholding maritime conventions. If people in distress are going to be rescued and brought to the nearest port of safety, that would be an insanely risky back route into the UK. People move. They have every right to do that. They will do it regardless of the barriers that Europe or the UK puts up. The choice is between supporting life and supporting death. What else can you choose but life?
A hundred groups are demanding safe routes now. It's not a bad demand, but safe routes exist. There are ferries. I think that we should be saying let people get on the boat. Visa free travel for all. You can come and claim asylum in the UK if that is what you want to do. It is not a radical demand. It's easier to administer than resettlement schemes or screenings in Calais or any of the other suggestions. It also would mean that the UK was actively promoting the provision of sanctuary. #FerriesNotNavies is my proposed hash tag.