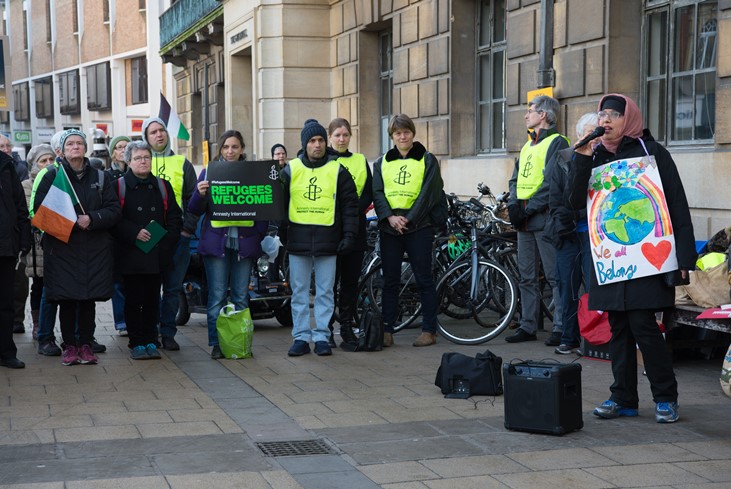 Global Justice Cambridge joined migrants and friends for a rally outside the Guildhall at 11:00 am on Saturday 17 February — part of a national day of action, with more than fifty events happening nationwide, to celebrate the huge contribution made by people from all over the world to life in the UK.  The central message was "Proud to be a migrant / proud to stand with migrants".
The day was co-ordinated by One Day Without Us.
Speakers included Marcus Johnson of N.W. Brown, Zareen Taj of Stand Up To Racism, Dan Ellis of Cambridge Refugee Resettlement Campaign, Aidan Baker of Global Justice Cambridge, Liesbeth ten Ham of Amnesty International Cambridge City Group, Paul Browne of Cambridge Stays, Mitch Mitchell of Refugee Lifeboat, and Prof. Catherine Rowett of the University of East Anglia.
Several of them told of the part migration had played in bringing them to the UK.  Zareen Taj told of the pain of finding herself 'othered' by her decision to wear a headscarf.  The event began and ended with Liesbeth ten Ham's stunt involving suitcases and masks.  Here's a picture of it by Clare Baker:
And organiser Karol Florek made a video of the stunt as it happened, complete with soundtrack by Keller Williams.