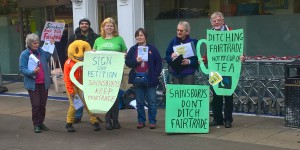 Cambridge news 
reported
the 28 October action outside Sainsbury's on Sidney Street.  The total number of signatures on the petition, calling on Sainsbury to rethink its decision to remove the Fairtrade mark from its own-brand teas, was around 120!
Much thanks to
CAFOD
, the lead organisation in this campaign, and to Mary Watkins, who worked hard to get the Cambridge action up.  And to Angela for her costumes and placards.
Photo by Jed Kalinzi.