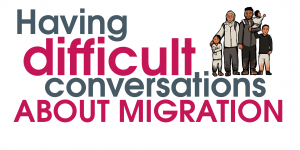 Migration is possibly the most sensitive issue in Britain today. Debates on the subject can be uncomfortable, upsetting or angry, and often do little to change anyone's mind. At the same time, fighting for a progressive stance on migration is more important than ever, and we need to be able to persuade people who don't already completely agree with us.
To learn the tools to do this, join a participatory workshop led by experienced organisers from HOPE not hate. The session will focus on how to listen and question effectively, how to use stories to effectively persuade people, and how to create spaces for more constructive communication around difficult issues.
Key elements of the session:
Story of self: What are our stories? Why is narrative important?
Who do we need to speak to? How?
The myth of myth-busting
Key techniques: empathetic listening and Socratic questioning.
Case study: story and techniques used in practice.
Organised by HOPE not hate and Global Justice Now.  Tickets free, but donations welcome on the day.
Date: Saturday 25 February 2017
Time: 11:00-15:00
Venue:  Buchan Street Neighbourhood Centre, 6 Buchan Street, Cambridge CB4 2XF