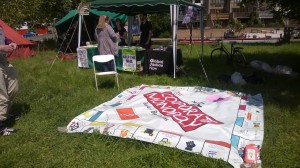 Global Justice Cambridge did Strawberry Fair again this year.  Many thanks to Cambridge Green Party for going shares on the stall.
This was not a Global Justice / Green Party co-production.  Our Green hosts had their material and we had ours — starting with the vast Corporate Monopoly board you see above.  The Monopoly board was probably the better deal.  As a talking point it was up there with the water-tap costume some of us wore to in the Market Place, 12-13 years ago.  People didn't need to have it drawn to their attention.  They came and looked of their own accord.  Some of them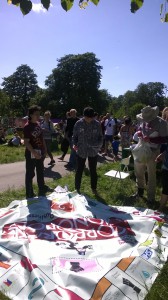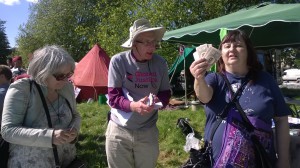 played on it, once we'd reassured them that the game would last for no more than 3 turns per player.  A good few photographed it, which will have taken the message still further.
Global Justice Corporate Monopoly is in the spirit of Monopoly precursors such as The landlord's game.  It pits civil society (boot token) against big business (hat token).  The hat has first throw, and the consequences of landing on most squares on the board favour the hat over the boot.  50% of the Chance cards favour hat over boot likewise, and the Community Fightback squares on the board are very few and far between.
From the conversations we had with punters, it became obvious that many, even of those who didn't play, got the message.  A remarkable number of them wanted to know if the board was for sale.  To them we gave energy action cards, in hopes their addresses will reach Global Justice that way.