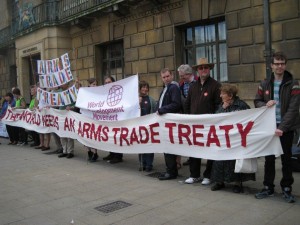 Cambridge WDM has a new group banner!  Old banner gave us good service over many years, but it showed our old web address and was starting to get tatty.  New banner shows who we are, and leaves web address and other contact details to us.  Thanks to WDM office for kindly supporting the production of this.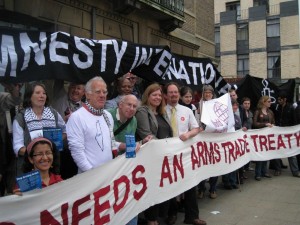 Banner's first outing was Cambridge Amnesty's 16 June event in support of a petition for a solid arms trade treaty.  Group members stood shoulder to shoulder with Amnesty and Julian Huppert MP on this one — and then disappeared into the crowd on WDM biz in the run-up to the Rio+20 conference.  The conference claimed to be about a 'green economy'.  but, as WDM explains, there was a risk that'd mean no more than monetising nature.  The action cards called on MPs to make sure that Nick Clegg travelled to the conference with better ideas than that.
We worked the Market Square and Petty Cury, and came back an hour later with 20-30 cards signed and ready for dispatch, to more than one MP.
For what happened at Rio+20, see WDM's blog.