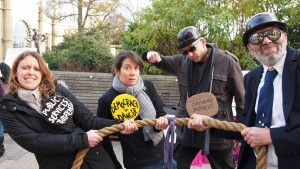 Heard about the Transatlantic Trade & Investment Partnership? Neither had we until a month ago. These under-publicised negotiations currently taking place between the EU and the USA plan to create a huge free trade zone between the two blocs.
However, the most insidious part of the treaty is that it will give corporations the right to sue governments.
What this comes down to is that if we manage to campaign our government for a change in the law – whether that be with regards environmental protection, health care provision, in fact, anything that means a corporation will lose the chance to make their usual profits, they will then have the right to sue that government for compensation.
The tribunals will be decided on by corporate lawyers. In secret. It is the very antithesis of democracy.
Sounds insane, but it's true. And it's happened before where there have been other trade treaties. It's happening right now, across the world.
Strangely, nobody has consulted us on whether we want our sovereignty signed away to corporations. So we decided to take a tug-of-war to the streets of Brighton and ask people to take part to decide who ought to win – big business or citizens' rights.
As well as winning the struggle for democracy (hooray!), we also got hundreds of signatures on our petition to be sent to Business Secretary Vince Cable, and a full-colour feature in local paper The Argus.