Back in November 2017 the new trade bill was quietly introduced in parliament, it recently passed the second reading stage. As it stands the UK parliament has very limited powers over trade and if the bill passes in its current form, Westminster MPs will have less influence over any EU-UK trade deal than MEPs in Brussels or even deputies in Belgian regional assemblies. On the other hand, it will give trade secretary Liam Fox and the UK government huge powers to negotiate trade deals without parliamentary scrutiny and accountability. These days trade deals aren't just about trade, but they affect every area of life such as social policy, labour standards, consumer rights, environmental protection – all things that are in the public interest. It is an extremely worrying and undemocratic development. But we can stop it if we mobilise enough people power!
Join Global Justice Brighton & Hove to discuss what a truly accountable and democratic trade policy could look like and what you can do to make it happen!
W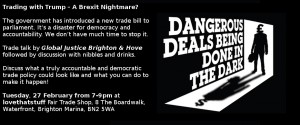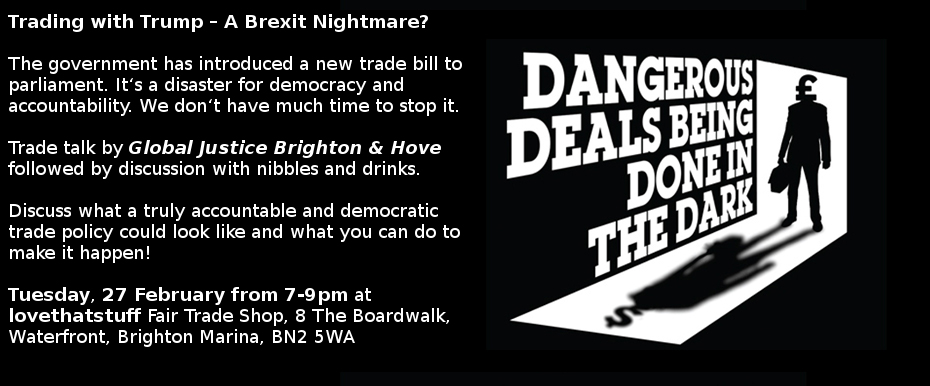 hen: Tuesday, 27 February from 7-9pm
Where: lovethatstuff Fair Trade Shop, 8 The Boardwalk, Waterfront, Brighton Marina, BN2 5WA
Fairtrade Fortnight 2018 runs from 26 February to 11 March.