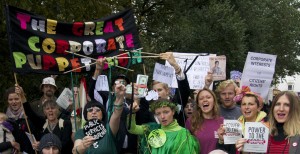 On a rainy Saturday afternoon in October, a coalition of Sussex-based campaigning groups again took to the streets of Brighton to protest at TTIP, the latest assault on our democracy. We held 'The Great Corporate Puppet Show', as businesspeople attempted to take control of public services and the environment, alongside hundreds of other protests taking place across the European Union.
TTIP will give unprecedented powers to corporations, giving them the right to sue national governments, and will slash hard-fought-for regulation. If agreed, TTIP would make it easier for western companies and governments to push deregulation and neoliberal economic policies on poorer countries, worsening poverty and inequality.
Together, we can defeat this insidious piece of legislation. Come to our next WDM meeting and join the battle for global justice!