Global Justice Leicester was in the heart of the Festival – on the Boulevard overlooking the canal.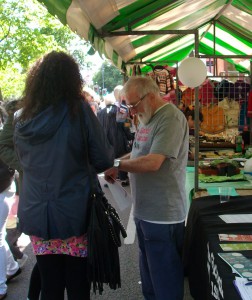 It was an exciting day with friends new and old coming to find out about the latest Global Justice Now campaigns.
We chatted about the energy injustice campaign
The corporate grip over energy keeps 1.3 billion people around the world without access to electricity, and privatisation is putting fair levels of energy access even further out of reach.
Festival goers signed a petition against the use of UK Aid money to fund energy privatisation in Nigeria.
Despite the UK's long and unsuccessful experience with energy privatisation, the Nigerian government is supported by aid from the British government. The UK continues to pour public money into a privatisation programme that seems doomed to failure, neglecting policy options that could address Nigeria's serious energy supply problems.
This is an exciting time to be campaigning with Global Justice Leicester – why not join us?