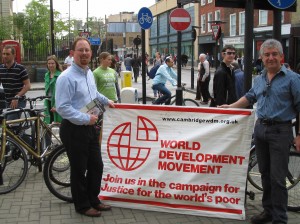 28 April: just 8 days before the election, Cambridge Parliamentary candidates Tony Juniper (Green) and Julian Huppert (LibDem — now MP for Cambridge) expressed support for a WDM campaign.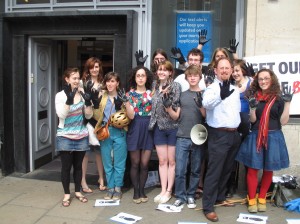 Activists from the World Development Movement and the student group People & Planet protested outside the St Andrew's Street branch of RBS subsidiary NatWest. They demanded that public money should stop financing companies involved in devastating activities, such as oil extraction from tar sands.
RBS has been involved in financing tar sands related companies to the tune of $7 billion, since its bail-out by the UK public. Extracting oil from tar sands in Canada has come under the spotlight as highly controversial because it violates Indigenous People's rights and contributes more to climate change than conventional oil extraction.
The protest was one of many across the country around the bank's AGM on 28 April.