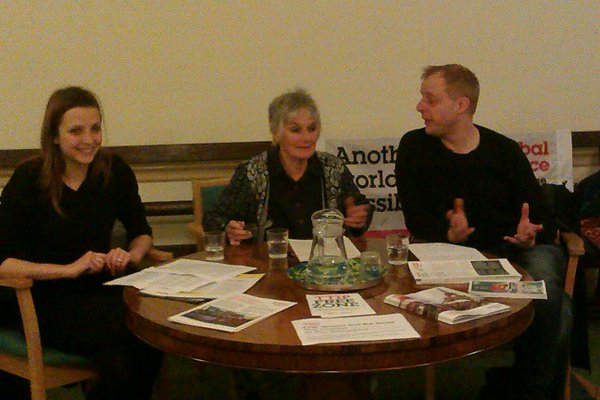 Law lecturer Eva Nanopoulos and Global Justice Now director Nick Dearden gave a pair of inspiring talks in Friends' Meeting House on 16 March.
Nick Dearden likened TTIP, the Transatlantic Trade and Investment Partnership now being negotiated between the European Union and the United States, to the historic enclosure of common land  in England and Wales, adding that opposition to TTIP joined up many of the issues people cared about — the NHS, the environment, animal welfare.  Eva Nanopoulos urged campaigners to work hard for the destruction of TTIP, as TTIP if adopted would be in so many ways like the past year's humiliation of her home country, Greece.
But Nick and Eva were glad of this one thing: that opposition to TTIP drew on struggles that had continued over generations.  That's where we of Global Justice Now come in.  Nick's talk began with a sentence or two about the fear he had seen in the eyes of politicians having to defend their policies to groups of Global Justice activists.  TTIP is another fight we can win.
A more detailed account of the talks will follow in the next few days.