Please note: South Lakes GJN has been renamed Cumbria GJN
Latest actions
Next action:  Nov 25th  Birdcage stand and Meeting on Trade Democracy
We have the birdcage in Kendal on the morning of Nov 25th. We will be using this to spread the word about GJN campaigns and the following Trade Democracy meeting. If you would like to come along and volunteer, you would be very welcome. Or just come and meet us! 10 – 12.30.
Trade Democracy meeting:
"Trading with Trump" – a Brexit nightmare?
Saturday 25th November. The Shakespeare Centre, Kendal, LA9 4HE
Free event. Soup and a Roll at 1pm! 

Talk begins at 1.30pm.

 Followed by discussion & Q&A.
Speaker: Jean Blaylock from the Trade Justice Movement.
Jean will talk about how new trade deals following Brexit could be a disaster for Britain, the environment and climate change; and for the disadvantaged throughout the world.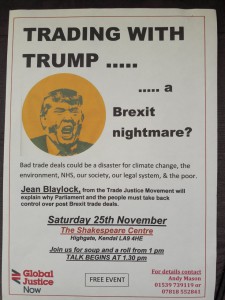 ————————————————————————————————-
Anti Fracking protest
Members of GJN and the Green party have been demonstrating at the Preston New Road fracking site as part of Kendal Green party's Green Mondays. Caroline Lucas and Jonathan Bartley  came and made speeches and spoke to the police, as has Eve Nortley, our NW GJN rep. The weekly protests continue.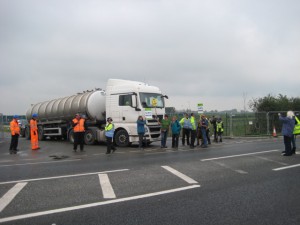 ————————————————————————
Exhibition at Kendal library  Jan – Feb 
Kendal library kindly agreed to host our GJN photo exhibition "Monsanto on Trial". Based on the recent UK tour of Farida Akhter,  a Bangladeshi economist and founder of biggest collection of community seed banks in the world. She visited the UK before going to the Hague for the 'Monsanto Trial'.
  ———————————————————————–
Build Bridges not Walls action Friday 20th January
To coincide with the national and international action to protest at the inauguration of Donald Trump we held a protest on Victoria Bridge with our own banner. We had very positive responses from passing motorists and quite a lot of people stopped for information and discussion.
——————————————————————
About Cumbria Global Justice Now
The South Lakeland GJN has now been renamed Cumbria Global Justice Now.
We are a local group of Global Justice Now.
We are a group of committed local people who campaign to tackle the root causes of global poverty and injustice. Global Justice Now is a democratic movement in the UK which campaigns in solidarity with people in the global South.
The group recognises that rich countries, international institutions and big business knowingly make decisions that are leading to injustice and inequality on a massive scale. It does not have to be like this. We have both the wealth and the means to end poverty.
For more information about us and what we're up to, or to find out how you can be more involved, contact Andy at amason1750@gmail.com or call 01539 739 119.
Or come along to our monthly meeting  – see panel on right – all welcome!!
Our next meetings – at United Reformed Church 104 Highgate, Kendal, Cumbria LA9 4HE:
Monday    20 Nov
Watch this website for further details – don't forget to check our Twitter feed as well – twitter.com/@southlakesGJN