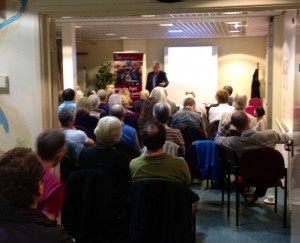 Standing room only
Renowned economist and Nobel laureate Benny Dembitzer was met by a capacity audience at the Roy Fletcher Centre in Shrewsbury on Thursday evening (11.10.2012), as around 50 concerned Shropshire residents braved the grisly weather to listen to his arguments on the threat of global famine and what we can do about it.
Dembitzer, whose latest book is titled Sleepwalking into Global Famine, raised issues such as land for food production being lost to biofuels, the rising price of oil pushing up fertiliser and transportation costs, and the money made by banks speculating on food commodity prices exceeding the value of the physical commodities.
He challenged policy makers to urgently adopt a new approach to address the problem of food scarcity, starting with practical steps such as developing crop storage and distribution capacity in poorer countries.
In turn, the Shropshire audience demonstrated that this rural county has plenty of expertise and an international outlook, as farmers, agronomists, geographers, churchgoers and others matched the eminent speaker with their informed questions to generate a lively debate.
The Shropshire group of the World Development Movement, which organised the event, would like to thank all those who attended.