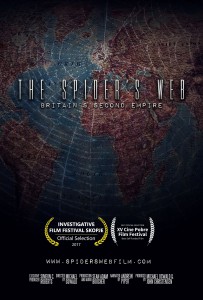 Come along to this fascinating free showing of The Spider's Web film, which probes Britain's transformation from a colonial power into a global financial power.
Take part in a Q&A session with the film's co-producer John Christensen on this investigation into the world of Britain's secrecy jurisdictions and the City of London.
John is chair of the Tax Justice Network. His investigations into the role of tax havens in the globalised economy started in 1978 and have included 14 years working on the tax haven of Jersey. He is a vocal critic of tax havens and is described as Jersey's most prominent dissident.
Where: Room 026, University Centre Shrewsbury, Guildhall Frankwell Quay, Shrewsbury, Shropshire, SY3 8HQ.
When: 7pm-9pm, Tuesday 6 March 2018.
Organised by Global Justice Shropshire and Amnesty International Telford.
Contact: shropshire@globaljustice.org.uk .