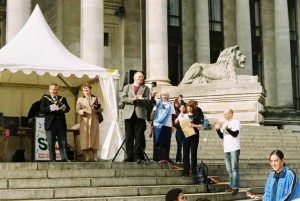 Global Justicc Portsmouth members have been very involved with setting up Fairtrade groups in Portsmouth, Gosport and Havant all of which have now achieved Fairtrade status and have active Fairtrade working groups.
Members of our group are very involved with Fairtrade events.  This list will give you an idea of what we did for Fairtrade Fortnight 2016. It's time to get planning for 2017 – Fairtrade Fortnight is from 27/2 to 12/3.
Sun 28th Feb
Fairtrade breakfast at St Thomas Cathedral
Tue 1st March
Fairtrade breakfast and coffee morning at St Mary's Church Hall, Church Road, Hayling island 8.45 to 12.00
Coffee morning at Havant URC 10-12
Wed 2nd March
9-4 Fairtrade event at Portsmouth University Students' Union with banana producer from Colombia. Stalls samples, smoothie maker
Wed 2nd Lord Mayor's Coffee morning Portsmouth Guildhall 10-12
Thur 3rd
10-12 Fairtrade breakfast in Commercial Road with Fyffes bananas. By Rob Padley's stand
Fri 4th
9-11 Giving out bananas in the Meridian Centre, Havant with banana producers Alan Mak MP coming 9 am
Sat 5th
Fairtrade day in Gosport Discovery Centre 10.30 to 3.00. Lots of activities, films, food….
Tue 8/3
Market stall, Havant
8/3 International Women's Day event at John Pounds Church Hall High St, Old Portsmouth 2.30 to 4.30. A chance to chat over cake and to try different Fairtrade teas.
Thurs 10/3
Market stall, Waterlooville
Sat 12th
Fairtrade meal in Havant, with Zaytoun speaker.