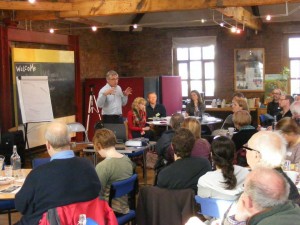 Kindling Conference on Solving Inequities in the Food Production
The 'Making Food Fair' conference, hosted by the Kindling Trust, took place on Saturday 22nd November, bringing together a fantastic range of speakers with over 70 people to explore the inequities of the current food system.
The event provided an opportunity to explore how we can make our food system fairer and more sustainable across the whole food supply chain.
This broader perspective opened up the discussion to consider how our food system is perpetuating poverty for UK farmers as they struggle to make a living, whilst at the opposite end of the food chain, many families are unable to afford healthy food.
With our food system continuing to fail so many, it is essential that we continue to discuss ways in which we can work towards a more equitable system.
Making Food Fair provided a brilliant platform on which to do just that. The broad range of perspectives covered by the speakers, alongside the diversity of those attending the event, made for an exciting and inspiring exchange of ideas in the afternoon group discussions.
The presentations from all of speakers were filmed on the day, and will be posted online soon.
In the meantime, to get a snapshot of the day check out #makingfoodfair on twitter, or to find out more about how The Kindling Trust are working to make food fairer in Manchester, visit www.kindling.org.uk.