Global Justice Derby is changing …
After 17 years, Ann, the co-ordinator of our group, is hanging up her activist hat and taking a well-earned rest.  Many of the other members of the group have also done long years of campaigning, running stalls, compiling petitions, writing letters, lobbying MPs, MEPs and Ministers, and engaging people in conversations and actions around a fairer world which serves the needs of all of its people, North and South.  It is time to step back and focus our energies.
We will therefore no longer be meeting formally as a group.  Another activist, Keith, has very kindly agreed to take on the role of contact point for Global Justice Now in Derby, so if you would like to know more about activities in Derby, contact globaljusticederby@gmail.com, or contact Global Justice Now HQ on offleyroad@globaljustice.org.uk.
Our last action was at the Belper Goes Green Festival in June 2017, where we promoted our latest campaign to Stop Funding Hate – putting pressure on Marks & Spencer to stop advertising in the Daily Mail, which has done so much to direct hatred towards refugees from conflict, and migrants of all kinds.  If you haven't joined the action yet, you can add your name easily here: https://act.globaljustice.org.uk/ask-ms-stop-funding-hate
Here's a picture of Ann in action, at our last stall, for old time's sake: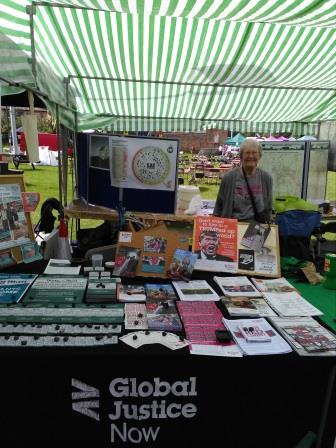 There will still be a lot going on in Derby, so if you want to get active in changing the world for the better, you can also contact any of the following (in no particular order):
Bread & Roses film showings (also check the Derby Quad website)
I'm sure there are others I've missed.  There is also this important upcoming event that you might want to get involved in:
Next event: A Better World is Possible, Saturday 16 September 2017, 10.30am-4.00pm, Derby Friends Meeting House, 56 St Helen's St, Derby DE1 3HY
A wide variety of progressive groups in Derby & Derbyshire are campaigning/working to combat injustices and make the world a better place.
Whether it is human rights, climate change, arm sales, refugee rights – we all have a greater impact if we can work together with other groups who share some of our ideas.
In order to facilitate joint working (or simply to inform others of your group's existence) you are invited to this open meeting, organised by Imtiaz Choonaraon.  Further details on the Derby People's Diary, here: https://derbypeoplesdiary.org/events/a-better-world-is-possible/
Previous actions:
Beyond TTIP:  campaigning for trade and environmental justice after the Brexit vote, Saturday 19 November 2016
We were very lucky to have Nick Dearden come to speak on the successes of the Europe-wide trade justice campaign against TTIP, what we have learnt, and the new challenges facing us in campaigning against CETA, the Canadian-EU free trade agreement, and the Trade in Services Agreement, TISA , which is the new WTO agreement that poses a serious threat to the future of public services.  We also had a chance to discuss the challenges of campaigning in the post-referendum environment, and to plan actions.
Belper Goes Green 2016 ECO Festival, Saturday 4 June 2016
On Saturday 4 June, members of Global Justice Derby held a stall at the Belper Goes Green festival (organised by Transition Belper) to promote the campaign against the relicensing of Monsanto's glyphosate weedkiller Roundup, on public health grounds.  The campaign materials were so realistic, several people thought were were actually selling Roundup, and were getting ready to escort us away, but we persuaded them otherwise. We got 132 signatures for the petition to Liz Truss, most of them collected by secret weapon June, who was determined to ensure no one got off the festival ground without signing.  We also had several people take the bottle wrappers to make raids on garden centres, and had about a dozen cards signed for the action to force parliamentary debate on CETA.  A fantastic day all round.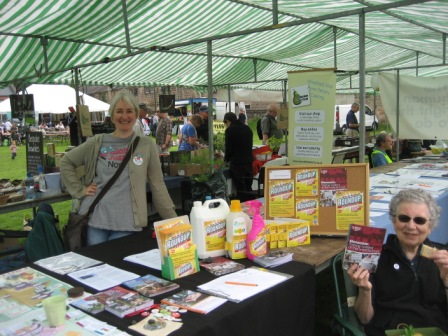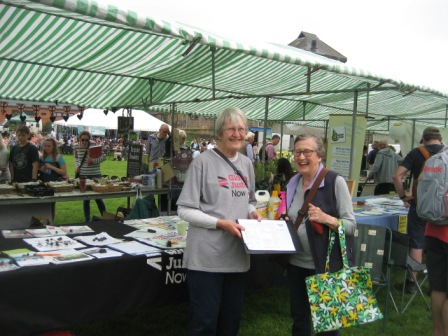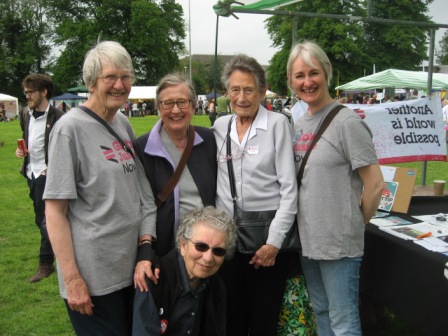 International Day of Action on Trade Justice,  Saturday 18 April 2015: 
Joint action with Derby People's Assembly and Trades Council, Unite the Union and People's NHS, and others, including a street theatre showing the defeat of TTIP by the people of Derby.
Day of Action against TTIP – the Transatlantic Trade & Investment Partnership,  12 July 2014:
We ran a joint action with people from the Derby 50k Group, the SOS-NHS group, and the Derby People's Assembly, in the centre of Derby, raising awareness of TTIP, and asking people to act.  People really cared about the implications of TTIP for the NHS – we heard loads of stories of how much people value the NHS being in public ownership.  26 people completed cards to send to their MPs, and another 50 filled in a petition, which was then sent to Chris Williamson, MP for Derby North.  He has assured us that Labour's position is to ensure TTIP exempts the NHS, but we want more than this – we still say no to TTIP.   Derby People's Assembly did a brilliant write up of the Day of Action for us.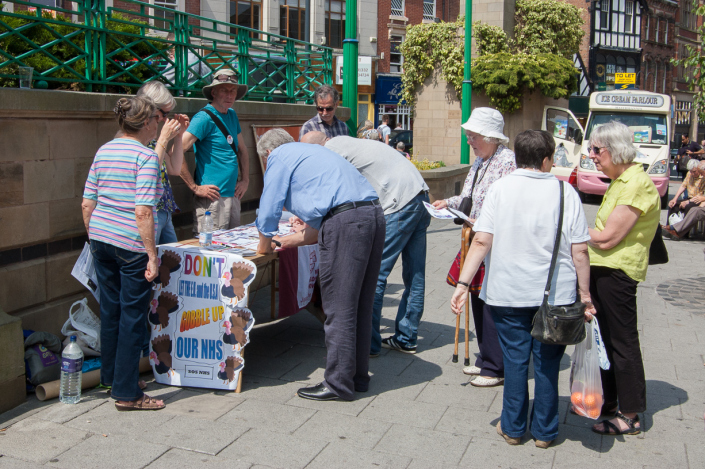 Food sovereignty
There is also a write-up of our very successful meeting on food sovereignty in Derby here, on the web pages of the wonderful Sound Bites wholefood co-operative:  https://soundbitesderby.org.uk/wp/local-groups/  This also includes links to a lot of other campaigning groups in Derby.  We will be continuing to campaign for alternatives to the profit-led New Alliance for Food and Nutrition, and highlighting their impact on the lives of small farmers and consumers – land grabs, the loss of livelihoods, and ever greater private ownership of the food chain we need to survive and thrive.  If you want to be part of it, and help reclaim our food system for the people who produce and eat it, drop us a line on the usual email globaljusticederby@gmail.com.