Kirsty Wright, WDM climate justice campaigner, addressed a small group in Cambridge at 19:30 on Weds 17 November. Kirsty has first-hand experience of both the 2009 Copenhagen climate summit and the 2010 People's Conference on Climate Change, in Bolivia.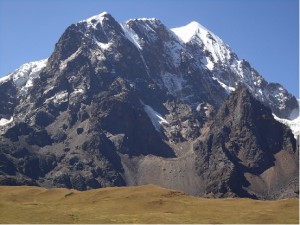 Photo of Illimani by Kirsty Wright
Kirsty writes in her blog:
"Yesterday, I went to visit the Khapi community at the foothills of the Illimani glacier that overlooks La Paz, dominating the skyline. Illimani has long been said by indigenous Aymara communities to be a guardian of the people. There's certainly some wisdom in this. Not only is the glacier the source of water for the hundred of communities who live in the hills below it, as well as upwards of twenty percent of La Paz's water supply (some estimate that it is closer to forty percent), but these agricultural communities are also the gardens of the La Paz, providing fruit and vegetables to the city dwellers below.
'The snow used to come down to there' said the village leader I was speaking with, pointing to the bottom of a thin slither of snow, as the sun set behind us, layering the glacier  with a warm orange glow. 'When we were children we used to be able to walk up and touch the snow. Now you can't get to the snow at all.'"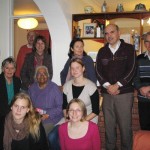 WDM's Cancun Watch has news of another climate meeting — the United Nations Climate Change Conference in Cancún, Mexico.